Ruto has been in the US for a couple of days. So far, the feedback has been him meeting the governor of Nebraska talking about agriculture which is good. But governors don't invite deputy presidents to the US so we all have been waiting for Ruto to meet the people who actually invited him, whom we suppose are US state officials even if it is an assistant secretary of something.
And then comes Ruto's biggest meeting so far which was with scholars, students, the clergy, and Kenyans living in the US.
The blaring headline coming from that meeting is Ruto complaining and whining about Kenyan politics being marred with blackmail and intimidation specifically by the Kenyan government using the criminal justice system to intimidate leaders in his camp.
Read: Ruto to the US and UK for the first time since becoming DP. How will it go?
As a matter of fact, Deputy President William Ruto has asked the international community to intervene over what he terms attempts to deny Kenyans the right to elect leaders of their leaders.
In Ruto's words, the Kenyan government is arresting and charging alleged criminals, not for the hideous crimes they are accused of but because they are working with William Ruto for his presidency come August 2022.
The plan according to Ruto is to stop him from becoming the president and have someone else imposed on Kenyans as their president by the government of Uhuru Kenyatta.
"That is the matter that is on the ballot, and that's a matter that many Kenyans in fact if you understand a little bit of Swahili, that is what informs the current push by many Kenyans to say hatupangwingwi. Meaning, (we want to make our own choices without being choreographed, chaperoned, blackmailed or intimidated)," Ruto said.
Ruto is telling Kenyans and the whole world that once any criminal whatever their crimes may be joins the Ruto party they must be immune from all and any prosecution for their crimes otherwise it is blackmail, intimidation not just of the criminal but of Ruto himself and his quest to be the president of Kenya come August 2022.
The obvious conclusion is that once Ruto gets to the presidency all the criminals surrounding him, and they are many, will be cleansed instantly and their charges dumped and dismissed so they can cleanly serve the Ruto government. Or better still, go on a rampage with their criminal activities mostly robbing Kenyan taxpayers and they will be clean as pamba and will never be touched.
Does Ruto honestly believe that is the Kenya millions of them will vote for on August 9, 2022? I have my doubts.
According to the DDPS press briefing, William Ruto said there is a lot of blackmail and intimidation ahead of the August 9 polls.
Read: Names: List of DP Ruto's BLOATED delegation to US-UK
Speaking at the Karson Institute for Race, Peace, and Social Justice in Maryland, US, Ruto said that despite the use of criminal justice system to intimidate leaders, he is confident he will clinch the presidency.
"Kenyans will make independent choices. We would have expected to do this without the baggage of blackmail going on at the moment but unfortunately, that's where we are," he said.
Ruto, however, said that the people have stood very firmly against any move to make decisions on their behalf.
"There is a lot of blackmail, intimidation, and use of criminal justice system to intimidate leaders to ask people to vote in a certain way. I am very confident that the will of the people of Kenya will prevail," he said.
The DP noted that the biggest issues on the ballot during the August general election will be the democracy of the country and whether people have the opportunity to make choices, devoid of blackmail, threats, and intimidation.
"That is what encourages the current push by many Kenyans to say hatupangwingwi, meaning we want to make our choices without being choreographed, chaperoned or intimidated," he said.
Ruto added that Kenyans will be also be making choices about the economy and the democratisation of the economy.
"There is a feeling our economy has been captured and brokered and become exclusionist and that's why, in our push, we must democratise our economy, make it inclusive, and bring everybody on board and that's the push that is going to inform elections in our country," he said.
"It comes in different forms, job creation, expanding opportunities for business, food processing agro-processing, and interventions that will create a much more inclusive society."
Look across the window and your specific cases of brutal theft of money in Kenya by political leaders in office starting with one of Ruto's key allies and projected running mate who is before the courts and has been loudly complaining that the charges against him for theft are politically motivated because he supports William Ruto.
I am talking about none other than Rigathi Gachagua and I will only take one of the cases he faces before the courts as we speak even though he has many other cases amounting to Sh. 12 billion stolen by this one man from the Kenyan taxpayer.
Read: Mathira MP Rigathi Gachagua, wife pastor Dorcas Wanjiku in trouble over 12B tenders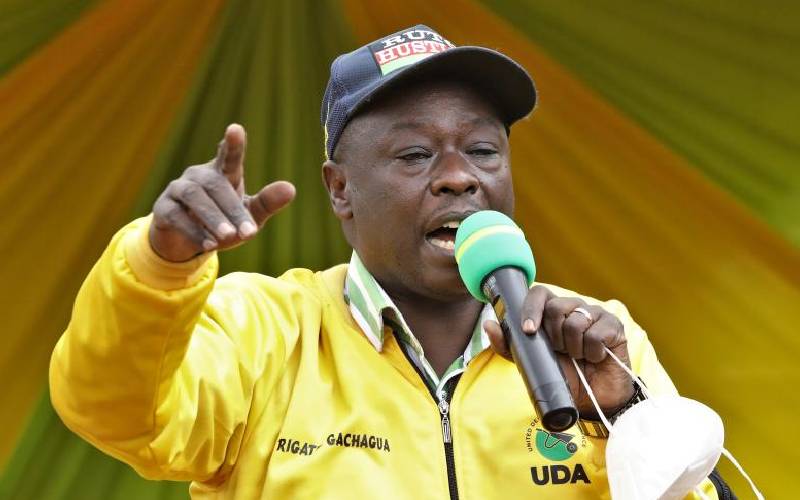 Here is the news report on what happened in court on November 3, 2021, when Mathira MP Rigathi Gachagua was reported to have suffered a major blow after a judge dismissed his application to cross-examine an investigator who uncovered suspicious transactions in his accounts totaling Sh19 billion.
High Court Judge Esther Maina ruled the MP has not demonstrated any special circumstances that would warrant the court to summon the investigating officer attached to the Asset Recovery Agency (ARA) to be cross-examined by his lawyers.
"There is no basis to call the investigating officer to be cross-examined because whether he is called or not, that will not change what he has already submitted in his affidavit," ruled Maina.
The state agency is pursuing Gachagua to recover Sh202 million stashed in his bank accounts on allegations that the money was part of the billions of shillings he acquired through money laundering and corrupt practices.
According to ARA, Gachagua's three personal accounts conducted a series of huge suspicious debit transactions amounting to Sh7.3 billion and a total credit of Sh12.5 billion between 2013 and 2020 which they believe were proceeds of crime.
Out of the huge bank transactions, the agency claimed the MP and his business associate Anne Kimemia, trading as Jenne Enterprises Ltd, cannot explain how they acquired the Sh202 million which should be forfeited to the state.
One of the accounts registered in Gachagua's name at Rafiki Micro Finance Bank has Sh165 million, the second account also at Rafiki Micro Finance Bank has Sh35 million, the third account has Sh773,228 while the fourth account under the name of Jenne Enterprises has Sh1.1 million.
The agency submitted that the MP while trading under different companies, received millions of shillings from different state agencies and hurriedly transferred them to other entities and personal bank accounts to conceal the source.
Now we all know that the court has to prove their case against Rigathi Gachagua before they put him in Kamiti and take Kenyan taxpayer's money back from his bank accounts but who on earth would complain that a person facing those accusations should not be charged in court and if that happens then it is political intimidation.
Corruption cases in Kenya are so ugly and nauseating that it gets Kenyans really angry to see the extent to which their money is stolen in such brazen and in your face kind of theft. It is like the politicians are telling Kenyans look here I am going to rob your money and you can go to hell because there is nothing you can do about it. I know that is hard to take.
Take the ongoing case of Migori Governor Okoth Obado accused of stealing billions of money from the county government he runs and just dumps loads of cash to accounts he set up with family members. It is hard to listen to the whole case and even think that a person like that is some kind of a hero for some political leadership in our country.
From the ongoing evidence provided so far, Obado turned the entire Migori county budget into his personal account and distributed money to his family members' accounts which he obviously controlled since he was the one pouring money in there.
The facts presented so far are that twenty-three trading companies linked to Governor Okoth Obado received Sh2.6 billion tenders from the county government during his first term in office.
According to an investigator from the Ethics and Anti-Corruption Commission (EACC), Robert Cheruiyot Rono (a police inspector), the companies were registered after Mr. Obado's election to the county office in 2013.
The investigator testified that the companies owned by the governor's close associates such as his family members and Jared Peter Odoyo Kwaga were awarded multimillion-shilling tenders by the county government between the financial year 2013/14 and 2016/17.
Seven of the companies are associated with Mr. Kwaga, a business proxy of Mr. Obado, the witness told Chief Magistrate Lawrence Mugambi.
They include Atinus Services which received Sh122.8 million, Joyush Business (Sh64.7 million), Mactebac Contractors (Sh216.3 million), and Deltrack ICT Services (Sh185.6 million). Others are Misoft Limited (Sh292.5 million), Seletrack Consultants (Sh155.8 million), and Swyfcon Engineering Sh66.7 million.
Read: DP Ruto, Governor Obado join hands to lock Raila out of Nyanza
Now should a person like this never be taken to court and if they are it is political intimidation and blackmail. Not in the Kenya we all want but maybe in the imagination of some of those who want to lead our country.
I don't know what relation William Ruto has with Okoth Obado today since he is now hot potatoes but in June 2021 Ruto and Obado teamed together in Migori and Ruto invited Obado's PDP political party to join him in UDA. In fact, Ruto was willing to have Okoth Obado join UDA as a party even though he was refusing other small parties.
The bottom line for Ruto is that these are the Kenyan heroes that should never be charged in court for their crimes and if anything like that happens, it is political intimidation and harassment because they support Ruto's presidency. Can our country really live with that?
We also have the case of Anne Waiguru now a key pillar in the UDA quest for power with William Ruto.
Anne Waiguru now a champion in the Ruto team is with him in the US as he whines about political harassment of his team by the state for theft of public money.
Ms. Waiguru was the Devolution Secretary when millions of shillings were siphoned from the State agency under the ministry to the tune of Sh. 791 million. Of course, she resigned in 2015 to run away from the stinking job she was doing at NYS.
Read: Waiguru ni Mwizi, Kirinyaga Woman Rep
A number of traders and former senior government officials were facing charges over the scandal. They include former Devolution Permanent Secretary Dr. Peter Mangiti, former NYS Director-General Nelson Githinji, ex-NYS finance director Samuel Wachenje and business people including Josephine Kabura and Ben Gethi, among others.
Just yesterday Ben Gethi one of the conspirators in the NYS theft case that Waiguru was working with was convicted by EACC court on a separate charge related to Sh. 107 million with IEBC.
Gethi's case where Waiguru is involved for Sh. 791 million from NYS is still doing its rounds in court and Waiguru expects William Ruto will wipe all that outcome August 9, 2022.
In a nutshell, even when he is out there to represent his country, Deputy President William Ruto, has all the time to cry about his big-time political allies being charged with theft of public money as some form of political intimidation and blackmail.
Kenyans are being asked to provide a political license for theft of their money by political leaders. They will reject it. It hasn't worked so far for them. Kenyans may have other ideas.
But Ruto will be thrilled to hear this. Some church leaders are saying they will vote for their thief if Uhuru keeps bugging them for taking stolen money.
Read: Clergy vows to vote for 'their thief' in new attacks directed at President Uhuru
Speaking on Wednesday to TV47, Pastor Anthony who heads the Redeemed Gospel Pentecostal Church in Nairobi told off the Head of State saying they will not take lightly his words and those of Mama Ida Odinga on small churches.
"It is better a thief who steals and takes it to church. We don't underestimate the words of Ida Odinga. The ODM leader Raila Odinga's wife that if they take over the government they will close all small churches," he said.
There you go.
The one thing Kenyans may ask now is our judiciary system deals with these corruption cases promptly. Right now they take years just to be heard in a bunch of courts asking for adjournments. Let us see if Governor Okoth Obado's case goes through this time around.
Adongo Ogony is a Human Rights Activist and a Writer who lives in Toronto, Canada