Right in the middle of the 2022 campaigns and perhaps when it could be getting to top heat, William Ruto is off for a 12-day foreign trip taking him to the US and UK. You must give a lot of credit to Ababu Namwamba for pulling this off maybe to give his boss a different image from one who never gets out of the car top 24/7. That is a good thing.
So far it is vague from the Namwamba statement which US state officials Ruto will meet. Obviously, he is not meeting Kamala Harris the US Vice President and he doesn't have to. If it was Trump time I am sure Mike Pence would be waiting for William Ruto at the airport in New York.
His tour, according to a statement by his head of International relations Ababu Namwamba, seeks to 'further strengthen ties with the country's traditional friends and partners.
In his tour, the DP is set to meet and speak to Kenyans living in the diaspora; the USA as well as in the UK.
"He is to meet among others, state department officials, the pentagon, and US government national security council advisor Condoleezza Rice,' Ababu had said.
Here are the other people on the trip with William Ruto including ANC leader Musalia Mudavadi.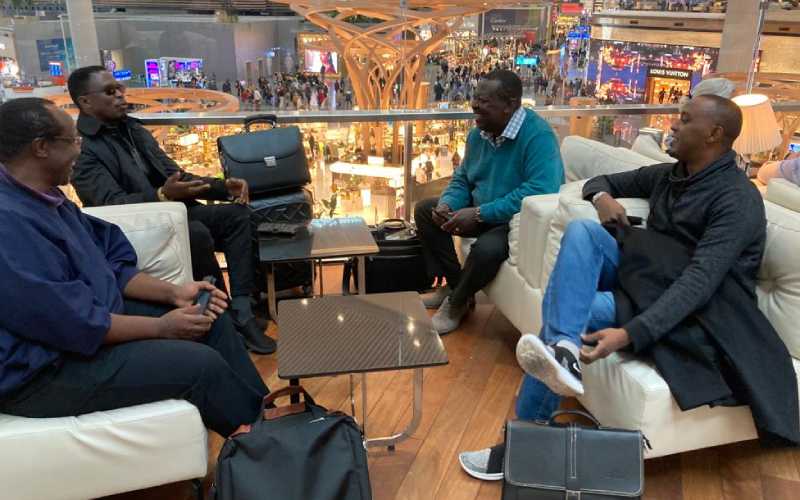 "In London, he will meet senior UK government officials, National Counter-Terrorism Center then speak to the commonwealth secretariat, Kenyans in diaspora then pay a courtesy call to archbishop Canterbury, His Grace Justin Welby."
Read: Game On For Azimio Presidency Run
From government documents, there are 31 people mainly UDA politicians accompanying Ruto to the US and to the UK.
It is kind of alarming because surely they are not going for political rallies in either of their host countries and also it costs a huge amount of taxpayer money that includes daily personal benefits per person for a trip that will last 12 days. We suppose whoever they are meeting broad will be meeting the DP, not his political team. But what do we know?
We will see what the bill amounts to but most Kenyan foreign trips by politicians are mainly for the shopping in the grand malls and exclusive luxury shops where they use their hefty allowances to buy their bling bling stuff. Prepare for a major fashion show when the troupe comes back.
Now can someone please tell the luxury shop owners in New York and London to have heavy bling bling skirts, dresses, socks, and suits that are yellow in colour and double the prices? The market is on the way. No kidding. Ababu may need some hip hop bling that African American teenagers and young people love. That can be shipped from Chicago to New York mara moja.
In a weird twist, the entire team heads to Qatar for four days from March 8 till they come back to Kenya on March 12, 2022. I am not sure who invited Ruto to Qatar for a state visit paid for by taxpayers' money or is it now part of the package for Kenyan money to be used for tourism and personal trips for the DP and a ton of his political buddies?
Maybe Qatar is where the grand shopping takes place after they add up all the benefits they collect from the Kenyan tax money over the entire 12-day trip.
It would appear that the 8 day trip to the US and UK to meet anonymous state officials was a cover to facilitate a 4-day private rendezvous in Qatar for some real action paid for by the taxpayers from the parliament budget and the rest from the state budget in the Deputy President's office which covers the cost for all non-members of parliament. We all know who is paying for the whole thing.
Adongo Ogony is a Human Rights Activist and a Writer who lives in Toronto, Canada