It is now down to whining time for Ruto and his UDA as they see the tide going badly for them in the 2022 General Elections.
First, it was the Political Parties Act 2021 which was just to allow political parties to legally build coalitions and run for elections under their coalitions.
Ruto and his mob were screaming about a deep state project to put Raila in power with that Act and Ruto personally promised to kill that bill with his alleged 150 M.Ps support. That disappeared into nothing and the Political Parties Act 2021 has now been signed into law by President Uhuru Kenyatta after being passed in parliament and in the senate.
In fact, Ruto and his UDA chaps are very happy with the Political Parties Act 2021 because it now allows them to bully other parties like Mudavadi's ANC to join and get nothing in return.
Then now we have the Elections (Amendment) Bill, 2022, and once again William Ruto and his cohorts are screaming bloody murder and claiming this bill is meant to rig the elections and declare Raila the president of Kenya on August 9, 2022.
Read: DP Ruto: New bill is an attempt to install a puppet president, it must fail
Here is the deal. If Raila Amolo Odinga and the Azimio team win the elections, Raila will be the president on August 9, 2022. Nobody needs to declare him the president and Uhuru will not do it.
The IEBC will make that declaration and Ruto will be headed to Sugoi and he can take that noisy mob plus Mudavadi and Wetangula with him. He might need some help with work on his chicken farm and there are a lot of people who will be looking for work.
In a statement on his official Twitter page, the Deputy President said the Elections (Amendment) Bill, 2022, was a ploy by the State to install a 'puppet president' through forceful, undemocratic, and unconstitutional means.
"The plan is evil and must fail," said the DP.
The Bill, tabled by Majority Leader Amos Kimunya, wants the media and online platforms barred from live streaming the 2022 provisional election results.
"Clause 21 seeks to amend section 44A of the Act to provide a complementary mechanism for voter identification and transmission of election results," reads part of the Bill.
According to Ruto, the Bill portends trouble for Kenya, its democracy, and the freedom of its citizens.
"The assaults on the Constitution through reckless legislative and administrative sleights of hand by dark forces operating in the shadows, are fundamental ingredients of a coup — the sovereignty of the people of Kenya is under grave threat," he concluded.
Ruto is telling Kenyans that President Uhuru Kenyatta is planning a coup to put Raila in power. Those are dangerous things to say. So is Ruto planning a counter-coup on August 9, 2022?
Ruto needs to do himself a small favor. Ask President Kenyatta to support him and UDA and he will win the elections. If the president refuses to do that and goes with Raila and the Azimio team, that group will win the elections probably in a landslide. It is that simple. There is no need to cry and invent turmoil in the country. If you win fine and if you lose go home. There is nothing difficult about this.
In terms of rigging, let's look at what is happening on the ground.
This was Raila and Azimio in Kajiado a few days ago.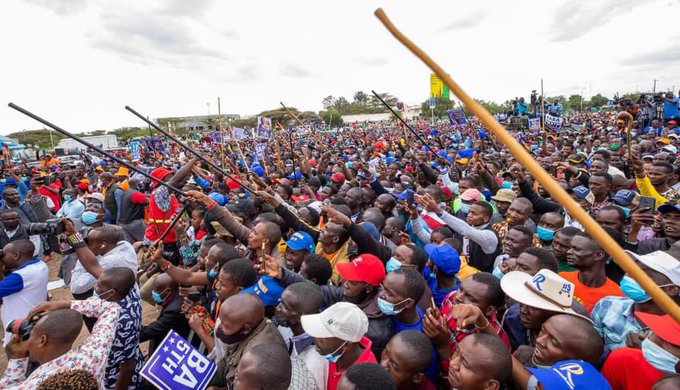 It was a terrific rally all over Kajiado.
This is Mudavadi and his new UDA in Kajiado the day after Raila's rally.
Why would Raila and Uhuru need to rig anything? They have the numbers and the whole country can see that.
It is obvious that as Ruto and UDA ran out of any ideas for the welfare of Kenyans they are going to tie themselves up with this rigging talk. That matako juu business is boring Kenyans to death and even Ruto knows he needs a new agenda.
Find something productive and hopeful Mr. Deputy President or just go home in peace. Is that too much to ask for a guy who has been in government for more than 30 years and has nothing to show for it? Maybe not.
Adongo Ogony is a Human Rights Activist and a Writer who lives in Toronto, Canada