I came across some of the key public needs in our country that just stuns me when you consider that the national government gives out tens of billions every year as CDF to constituencies for local development for the last 19 years and now we also have the county governments with their own hefty budgets for the last 10 years.
What the heck do the politicians do with that CDF money.
Start with this dangerous hanging thing called a bridge in Bungoma and this is in January 2022. This is not something in 1970.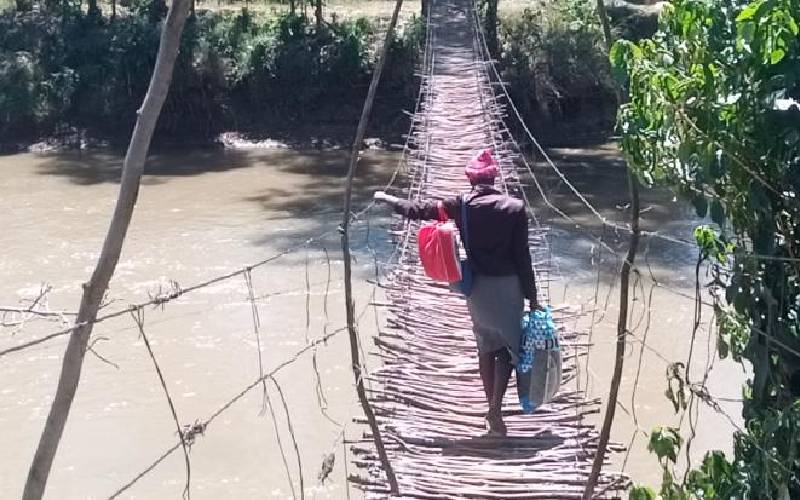 And this bridge was built by local residents in 1982. According to the story in 1982, two locals came together to alleviate the suffering of residents following years of neglect by the government.
The two took matters into their hands and collected locally available materials to build a bridge across River Nzoia, to enable people to move between Webuye West and Lugari constituencies.
Forty years later, the makeshift bridge, built using wooden poles and wires, is still the one relied on by some residents of Bungoma and Kakamega counties.
"Students pay Sh10 every day but other users pay Sh20. I routinely carry out maintenance to avert accidents."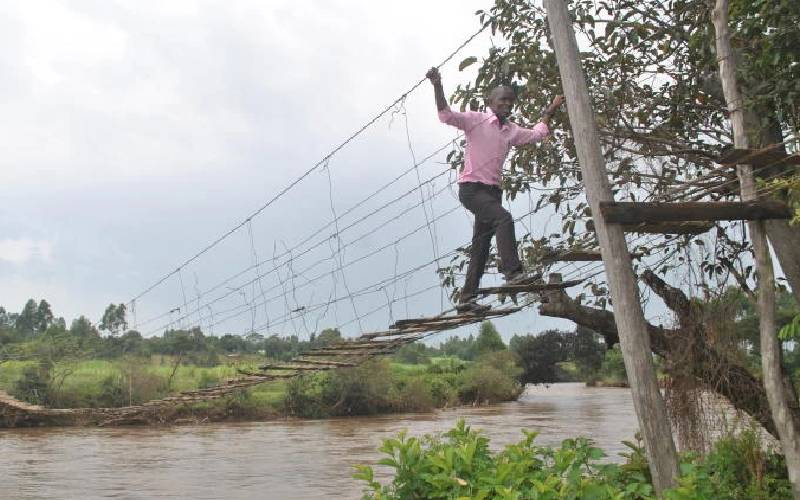 And in Suna Migori we have this school for 200 students and it looks like a place right inside hell where Satan takes the kids of the bad fellas who end up in his keep. I mean even Obel Sibuth has to take some responsibilities and let kids of those very bad people under his regime go to school.
Who knows the kids may graduate and go to the other side to sing endlessly for the big guy there. I used to ask my mother a very religious person what she expects to be doing in heaven when she gets there. I was a hundred percent sure that my mother was headed to heaven when her time comes because if she was not going there then nobody was and all those people were wasting their time in church.
Read: Kenyan politician thieves travel to Tanzania to learn "GOOD MANNERS"
Good thing today we don't have churches in Kenya. We have harambee kiosks and thieving dens masquerading as religious places. That is another story.
Here is Kotuga Primary School in Migori, the school I thought was only fit to be stationed in Satan House.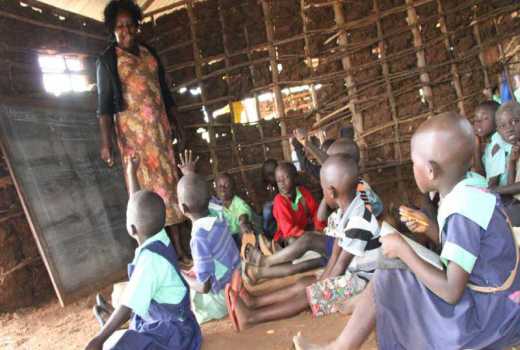 The other kids who are in the upper classes in Kotuga Primary School get to move to the Five Star section of the school with all the luxuries attached to that. Their supposedly spectacular part of the school where they learn looks like this.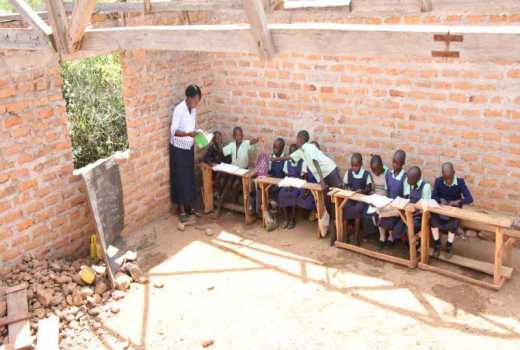 The real issue here is that nobody expects any of these kids to achieve anything in these schools. It is like rearing cattle where you need to have a place to put them to roam around.
The problem is that with cattle you just want them to hang around waiting for their big day, I mean your big day, but with the kids we are supposed to help them become productive members of society and education is the key to that door.
How can we do this to kids when M.Ps get hundreds of millions every year to develop their constituencies and obviously providing descent learning places is a big step towards providing quality education to the kids.
Here is another school in Lamu where the kids are barely able to stay above water.
Does anybody even imagine that these kids are listening to their teacher who is probably floating on something around them or these kids are naturally saying to themselves "how do I avoid drowning in this muddy water"
This is not just sad for these kids from our politicians, it is criminal by all measures of humanity. Even the alleged Taliban prisoners in the illegal Guantanamo Bay detention camp are not in such a bad shape.
And these are our kids in our schools in Kenya? Excuse me!
This is Kenya in 2021 and the politicians who eat all the money intended to fix these problems are running all over the country demanding that Kenyans re-elect them so they continue building these wonderful schools and bridges.
Here is Tumaini Primary School in Kwale in 2021. This is a crime against our children and it is unforgivable with all that money allocated to M.Ps to among other things build schools.
If we look at the CDF plans internationally, Kenya's allocation of CDF in relation to our GDP is very high and quite generous indeed.
Table 1: Amounts allocated per MP in USD
| | | |
| --- | --- | --- |
| | GDP(billion USD) | Average Amount Allocated per MP(USD) |
| Philippines | $ 166.91 | $ 4,270,001 |
| Bhutan | $ 3.76 | $ 43,000 |
| Solomon Islands | $ 1.57 | $ 140,000 |
| Kenya | $ 34.51 | $ 794,464 |
| Malaysia | $ 194.93 | $ 577,951 |
| Jamaica | $ 15.07 | $ 456,361 |
| India | $ 1217.49 | $ 420,790 |
| Sudan | $ 58.44 | $ 317,543 |
| Pakistan | $ 168.28 | $ 240,000 |
| Malawi | $ 4.27 | $ 21,352 |
| Tanzania | $ 20.49 | $ 13,761 |
| Uganda | $ 14.53 | $ 5,187 |
Kenya gives more money for CDF than any other country in the world in proportion to our GDP. In fact Kenya gives more money to the CDF than countries which earn 3 to10 times higher GDP and of course every party in Kenya now wants to double the CDF.
It is campaign time and dangling more CDF money will attract more M.Ps and spirants to that group because as we know the CDF is primarily pocket money for our M.Ps.
Read: The Bottoms-Up Army now wants Matiang'i's bottom. What happened?
They eat it all and paint some school wall and give general statements like oh I have put money in this or that school. They never tell how much and what that money achieved and nobody ever follows that up.
Even in the middle of the huge waste of CDF in Kenya, you go to Kibra constituency in Nairobi and you find the best use of CDF. It is like you are looking at different countries.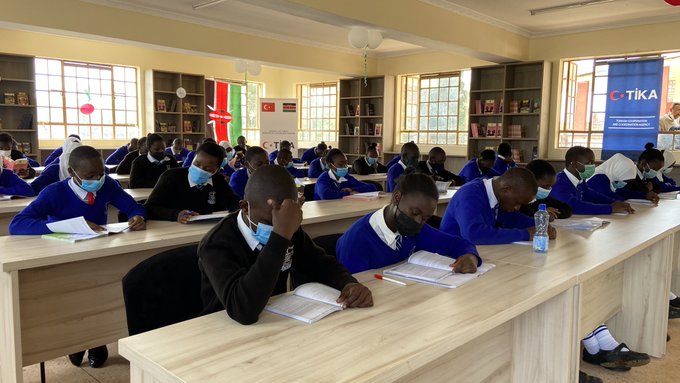 It is the same country and the M.Ps are free to do whatever they want with the CDF. You are a lucky student to be in a place like Kibra. Their is no supervision for CDF even though this is national government money.
Message to M.Ps is just do whatever you want. So this Benard Okoth Imran in Kibra M.P cares for education and he is putting the CDF money there big time.
Here is Mbagathi High School built with CDF money by Imran and his late brother Ken Okoth, the Kibra M.P before he took over and you are puzzled to realize that he gets the same amount of money as the other M.Ps and actually has a bigger population to serve in Kibra which is very densely populated.
That is just one of the schools he has built in Kibra and there tens of them with some under construction right now.
Imran goes to sit with students in their classrooms and enjoys their company. Every day he is up to to something offering scholarships and helping students who have graduated from high schools to get additional training and further education.
Here is another school there under construction.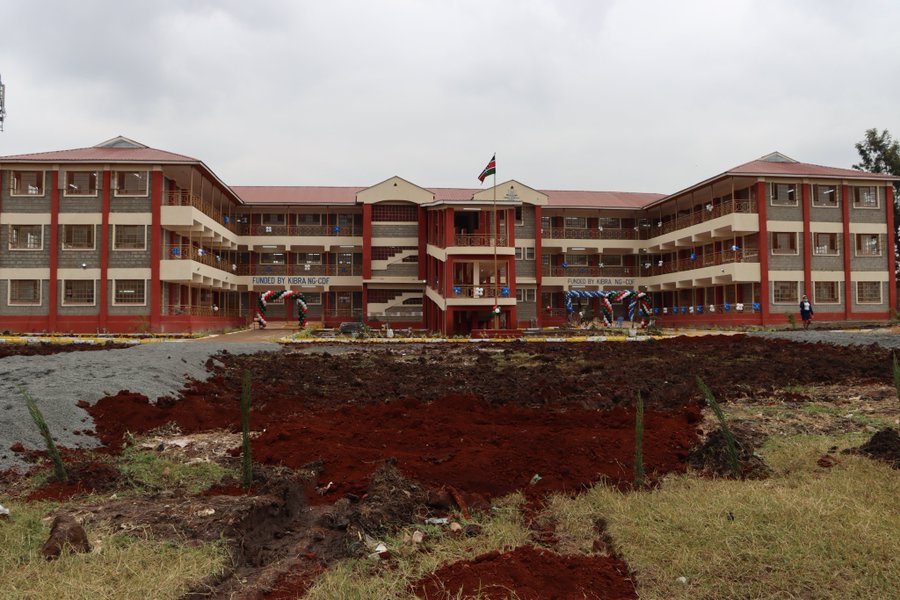 And inside the schools that Imran, Kibra M.P build in his constituency he has put the investments to make those places conducive to learning.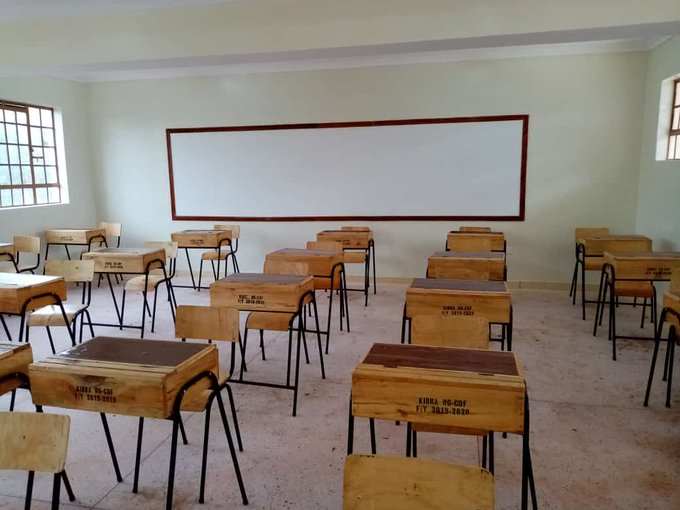 This M.P is building schools with the interests of the kids at the centre of his plans. Others paint walls to help the cover up their theft of CDF.
Read: Dr. Ndii in 2018 talking about corruption as a crime against humanity by the Kenya government
Here is what it is in Kibra schools.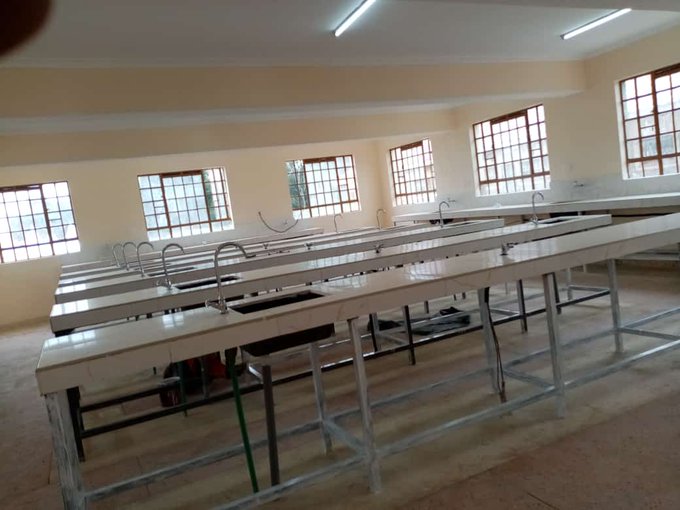 Yes we want a unified country and that is the big agenda for Azimio la Umoja. That is great and ordinary folk like me proudly wearing their Kenyan badge just want to be Kenyan and they have no issue with anybody. So we have a united country.
How about on development. It used to be that some areas of Kenya like the North Eastern Province were ignored and given little money for development in the national budget.
In fact, it came to a point where Kenyan political leaders allocated development funds according to their political interests often based on tribalism.
The Moi era speaks for itself on that. Nothing has changed much yet since Moi left power.
Then the big bomb hits.
In 2003 a bill for Community Development Fund (CDF) was introduced in parliament and passed.
Remember there was a time parliament and M.Ps actually worked for the citizens of the republic as opposed to fighting as to who is their next boss.
So they pass the CDF Act and that means that every constituency in Kenya gets a certain amount of money (2.5% of the National Budget).
That money goes directly under the control of the M.P for every constituency.
Some M.Ps have done wonderful work for their communities and constituencies while others have done absolutely nothing or even made things worse.
There is no unified code of standards and expectations on how our M.Ps can use CDF to bring opportunities for education and development for their constituents.
If we want a united country so bad and yes we do, how about a unified set of standards on how we use taxpayers and public money to support and build communities.
We could start this by simply setting up basic life needs for every constituency and county.
Water. Food. Health Facilities. Mobile Health Clinics. Electricity. Good Schools. Safety. Good Roads. Commercial Centres. Access to Banks. Land. Farming Equipments. Packaging products. Mango to Mango Juice etc.
Now if we set that as an example can we come up with a system where for example every M.P is obliged to spend the CDF money on say 2 health facilities, 3 or 4 new schools, 50 kms of new roads, etc.
We don't know what each constituency needs but for god's sake who decides how the CDF is used and how is the money accounted for. It seems the M.P does all that. The results should speak for themselves.
So what are the results? Kenyans want them before the August 9 2022 General Elections. In fact, they want those track records right now.
The most important thing for the next government in terms of how to make CDF money more effective in improving the lives of Kenyans all over the country is to administer the CDF in accordance with the "National Government Constituencies Development Fund Act 2003".
It is very comprehensive and if we follow it, CDF will work for all Kenyans. No Kenyan government has followed it until now. It is time to change that and follow what CDF was meant for and how it can be accounted for. It is in the CDF Act.
Adongo Ogony is a Human Rights Activist and a Writer who lives in Toronto, Canada