Mudavadi did his earthquake gimmick and it is getting even more complicated than either Ruto or Mudavadi thought about.
Those kinds of things happen with rushed marriages or worse still forced marriages where the groom and the bride have to grab each other to look married and they have no clue what the other party wants. Maybe blind dates are better because you are sure going there blind with very little expectations.
After the ANC rally which UDA took over, Mudavadi spent two days trying to convince his fleeing supporters that he is still running for the presidency and will be on the presidential ballot and nothing has changed in that regard.
There is delusion and there is utter madness and I have no idea which is which here in the Mudavadi case. Mudavadi is too terrified to tell his supporters in Western Kenya that after they built their ANC for more than a decade, Ruto comes and swallows them whole with this UDA thing which Ruto just cooked up a few months ago to run away from Jubilee, after his endless fights with the party leader, President Uhuru Kenyatta.
So a furious Mudavadi and his remaining political supporters in his backyard went on a rampage everywhere in the media telling Kenyans how Mudavadi is still in the race and his name will be on the ballot.
Politicians often take Kenyans for fools, but regardless of how foolish they think we are, we do know one thing. One party or one coalition cannot put two presidential candidates on their ticket for that race.
Kenyans also know that Ruto who has spent the last four years fighting his boss and campaigning restlessly all that time to be Kenya's president will never even think of walking away and letting Mudavadi be the one running for the presidency on the UDA ticket where Mudavadi'd ANC is a mere footnote. That is not happening and Mudavadi knows that too.
Here is Ruto babysitting his new boys with outright false promises: But he has to keep them happy and smiling and grasping for some hope as equals to Ruto. They know they are not. They allowed Ruto to come and take their house and gave him even the keys to their bedrooms.
That is no longer your house buddies and Ruto would never allow you to take his house. You can dance there that is it.
Just make them laugh with your clowns and make them feel important with some nutsy security dude behind them. That is it. You have it fully covered. Easy job isn't it for Ruto?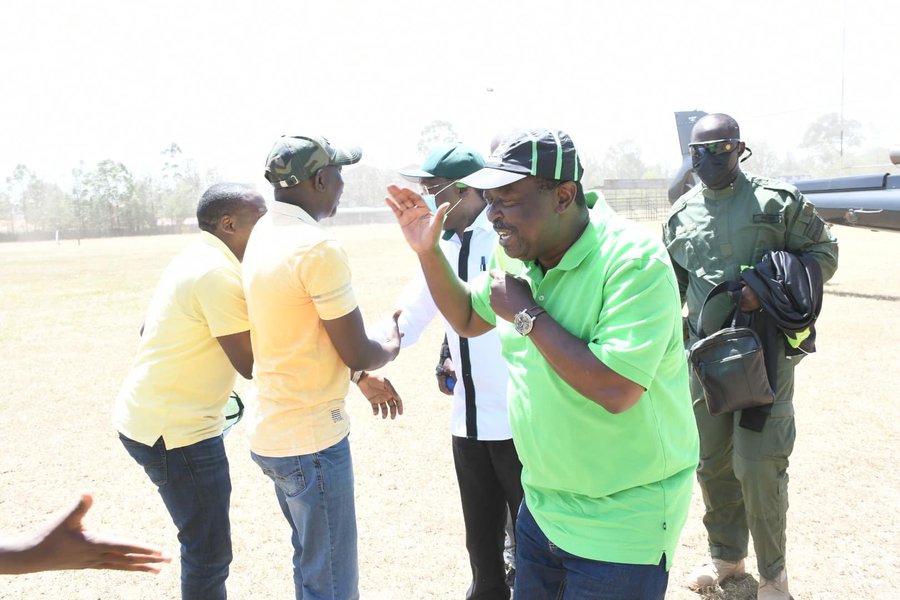 "Anyone in our alliance can be president, anyone in the alliance is capable of steering the team to State House…hatujakuja hapa kwa sababu ya ubinafsi, hatujakuja kwa sababu ya mamalaka…tumekuja pamoja ili tuokoe Kenya," Ruto said.
"Alice Wahome anaweza kuongoza Kenya, Rigathi Gachagua, Moses Wetangula, Musalia ama Hustler; wote wanaweza kuongoza Kenya. Ya muhumu si nani ataongoza mbali ni kuboresha maisha ya Wakenya."
But you get into a forced marriage you have to pretend that you are there because your interests have been fully met even when you know you are an add-on with no weight in that marriage. So we must have some sympathies for Mudavadi to try and look happy in this marriage. Everybody has a right to a little happiness at least.
Read: Ruto kills Mudavadi and himself at the same time: Wonderful
The other thing emerging from this marriage which could be very interesting and have some big consequences is the option Mudavadi has taken to go head-on with President Uhuru Kenyatta.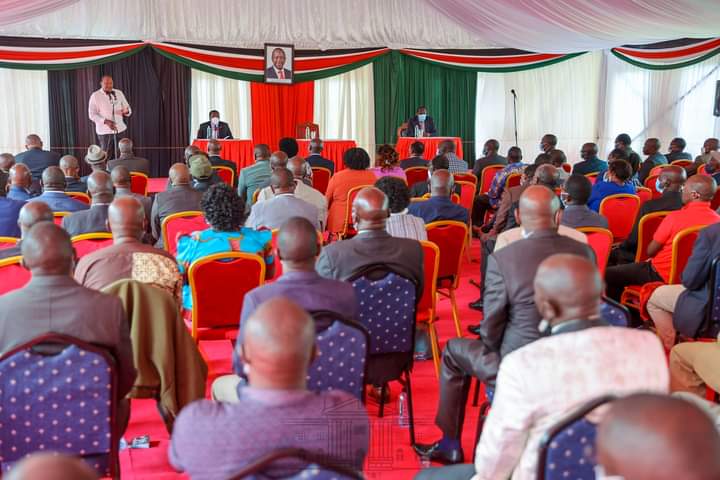 Of course, when you want to look tough under bad conditions you must take up the big boys for a fight. Fair enough.
On Wednesday during the first rally of the ANC-UDA meeting, Mudavadi was given the task to take on President Uhuru directly.
"I want to tell my friend President Uhuru Kenyatta that you have a right to be disappointed, but Kenyans are even more disappointed," Musalia said at Eldama Ravine.
"Kenyans are hungry, have a big tax burden, are overcharged, and they are jobless and hustling, they are disappointed, Tusidanganyane (let us not lie to ourselves)."
That was a fiery Mudavadi in Nakuru. For a man who actually has not even addressed any rally and was confined to some meek press statements over the last four or so months when the presidential campaign was raging on. Mudavadi was very excited to actually address people in a rally.
Here is the problem. Attacking Uhuru may be to please Ruto is actually a dangerous strategy. President Uhuru has made it clear that he supports Raila Amolo Odinga for the presidency and he has given his reasons for that mainly focused on a united Kenya striving for national prosperity for all.
But Ruto and many of his supporters are terribly worried about a head-on collision with Uhuru Kenyatta on the campaign run for the 2022 General Elections.
Ruto has been content with using the handshake as his entry point in attacking his boss. Ruto knows how much influence president Uhuru has in the country and it is not just among Mt. Kenya voters but all across the country in areas where there are many voters still sitting on the fence.
Attacking Uhuru directly and telling Kenyans that he has screwed them and the country will force Uhuru to defend himself and what he has done for the country and tell Kenyans why Raila is the best person to take over from there.
Here is the real deal. Mudavadi may be able to get some votes to Ruto's UDA even if he is confined to the flower girl role but that is nothing compared to the votes Uhuru can deliver to the Azimio group from all over the country. There is no comparison.
Uhuru is already getting into the campaign mode telling voters why he prefers Raila for the job but launching a war against the president is going to force him to get to the campaign trail. Uhuru seems to be so sick of Ruto that he doesn't need much pushing to go out there and tell Kenyans it is time to get rid of Ruto and have a sensible government in Kenya to replace his government.
Read: Ruto to Uhuru: "ICC brought us together and now ICC must separate us"
As things stand now Uhuru knows he is in that ballot as the biggest Kenyan failure as president and that is the agenda Ruto and Mudavadi want to peddle.
President Uhuru has had his problems but millions of Kenyans don't consider him a failure compared to say the lunatic Moi era that ruined many lives with a collapsed economy, jailed and physically killed Kenyans fighting for a free country. And guess who were the key agents and operatives of that Lunatic era. It was Musalia Mudavadi, one-time finance minister plus vice president, and of course William Ruto who was Moi's right-hand man all his life in parliament.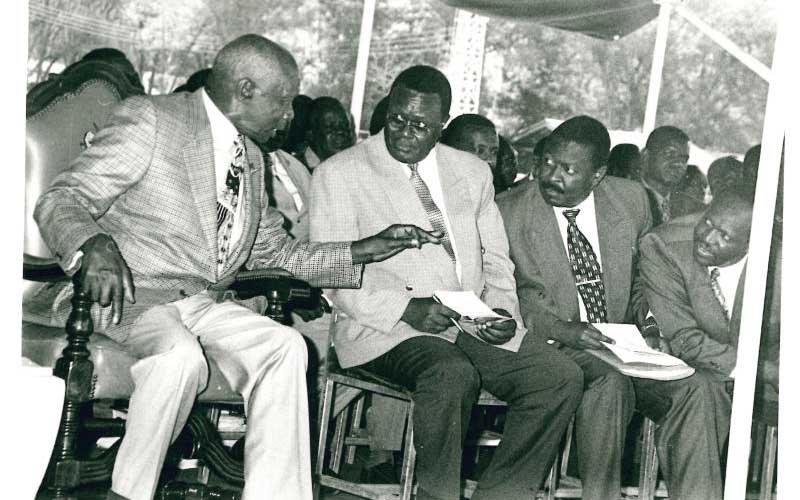 Kenyans have lived through a Ruto/Mudavadi/Moi governments and they know how horrible it was for the country and the citizens. That era was probably one of the most terrible times in our history as a people and a country other than the colonial rule in Kenya.
So if today those two amigos want to tell us how terrible Uhuru's government has been maybe they need to tell us how great they were when helping Moi run his dictatorship and collapse the economy in our country.
The nation is ready for that comparison.
Then when the rubber hits the road Ruto has to make a decision on the running mate issue. Under his new arrangement, Ruto has to seriously consider Mudavadi as his running mate.
Okay the 2 for 1 deal Ruto got where you buy one and get another one free with Wetangula tossed in as a salad dish is fine but dumping Mudavadi in a situation where he has to think of running for governor, senate seat, MP or even MCA may not cut it. That will mean Mudavadi will provide minimal votes for Ruto and his UDA.
So option two is for Ruto to pick Mudavadi as his running mate to give the poor guy some respectability and help him get some votes from his supporters.
If Ruto was to pick Mudavadi he can say bye-bye to voters from Central Kenya whom he had nursed for years to rally behind him with the promise that he will honor them with a DP pick. If that doesn't happen, William Ruto can forget that vote completely.
So Ruto can get something from Mudavadi and some votes from his base and lose big in Central or abandon Mudavadi with the latter still dressed up and lose from both sides.
It is a perfect lose-lose situation for Ruto and Mudavadi and nobody forced them into that deal but themselves.
Two things happened in the last two days to tell you how confused this Ruto and Mudavadi alliance is.
On Tuesday, January 25, 2022, Amos Kimunya moved a motion to set up the House Business Committee (HBC). 28 members of the new alliance noisily voted to reject the committee.
They were so excited about it they danced themselves lame in parliament. Then Speaker Muturi tells them they have closed parliament for the next 6 months when it will be time for the election and basically their action has dissolved parliament until after the 2022 elections.
Then the panic was on. The same M.Ps wanted the motion back so they could support it. They need their sitting allowances to add to their hefty salaries and the other sitting allowance they get after singing at Ruto house in Karen. Voting down the HBC motion was just outright stupidity.
Read: What happens to CDF money in Kenya?
If parliament closes now Kenyans would be in dire straits. No budget. No money for schools. No salaries for teachers and other civil servants. No money to help farmers in the farming season. Nothing. But the UDA/ANC M.Ps would get money loaded to them at Ruto's house.
Can anybody imagine how such a group of people would run a country? These are vengeful bitter characters with no clue about anything to do with the lives of ordinary Kenyans.
That motion is coming back to parliament and they will vote to support it after their stupidity has been exposed.
Then a day later the Political Parties Act 2021 was passed in the senate despite angry blowouts by some UDA senators.
Kenyans will have to figure out how the country can survive despite these noisy do-nothings. That is the task ahead for the nation in August 2022.
Adongo Ogony is a Human Rights Activist and a Writer who lives in Toronto, Canada