These are the good friends and patriots together before the doc passed away.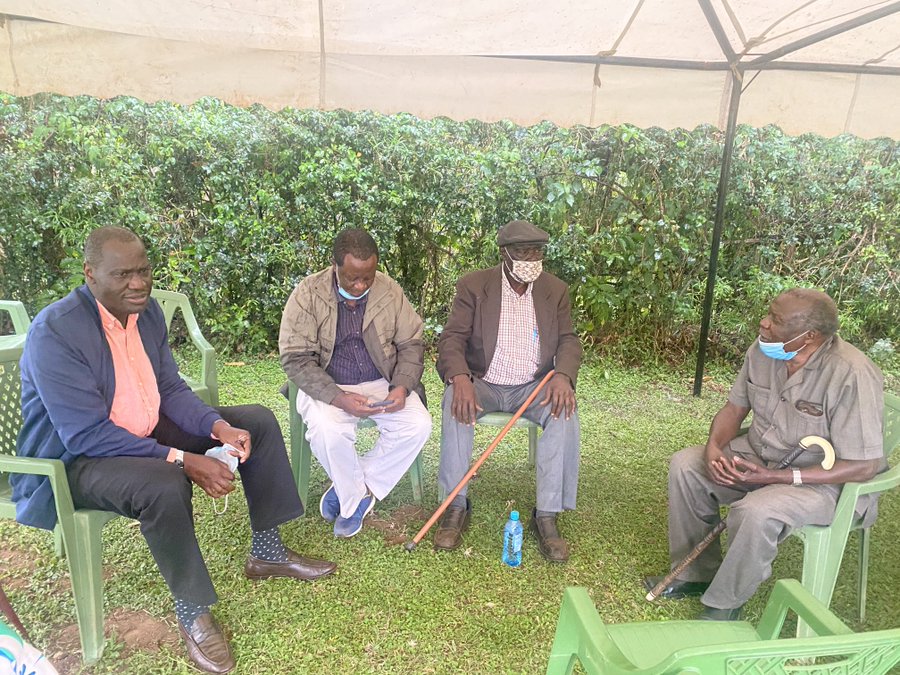 And the family.
Here is the story about Dr. Odhiambo Olel in the Kenyan papers.
Odhiambo Olel was a radical idealist who believed in raising his voice on issues he believed were not right.
So in 1971, he organised a doctors' strike, agitating for better working terms from the Jomo Kenyatta government.
He expected that the government would respond by dialogue to improve the doctors' working conditions, faced with shared humanity and goodwill. He was wrong.
The former political detainee and medical consultant died suddenly on Saturday night aged 87.
His death follows that of his wife late last year. 
He is survived by four children and 11 grandchildren.
On March 20, 1987, at 11 pm, Special Branch officers would storm his Kisumu house and ransack it for any seditious material and pick him.
He was blindfolded and bundled into the trunk of a waiting Land Rover for a rough drive to Nyayo House in Nairobi.
Olel recollected his ordeal in a 2014 TV interview, depicting it as heartless, inhuman, and painful to the extreme.
"I was the first person to be picked up by Special Branch for organising a strike against the legal government of Mzee Jomo Kenyatta," he recounted, saying that, "I did not know where I was. It was terribly scaring."
He would be interrogated for 17 days continuously by a team of Special Branch operatives, all the while being beaten at delicate body parts to exert maximum pain. They had stripped him of his clothes.
"You cry until you cannot cry anymore."
Olel said all the while he maintained that he was only working as Jaramogi's personal physician and nothing else. The interrogators would hear none of it.
"You will talk my friend…you are pretending that you are only working as Jaramogi Oginga Odinga's personal physician (and yet) that is not the only thing you are doing. You are also involved in clandestine activities (to overthrow the government)," they told him.
"I said 'no I don't know about those things'. 'Don't you know Mwakenya?' I said, no. They then said, 'if you don't know, then you will tell us. You will know (about it)," Olel said.
He described Nyayo House as a den of pain built purposely for torture "because you get to a place and you think you are lost; you are not on earth at all. You just know you are dead."
Read: Raila visiting mothers and families of political detainees and prisoners was very special
"Those interrogators were cruel and with no humanity at all. They beat you the first time and you cry a lot but as they intensify, you desire to cry but can't because the body has taken enough."
At the end of the 17 days, he was arraigned and charged with being a member of an illegal society, convicted, and handed five years jail term.
According to court records by Kenya Law, the doctor's jail term was reduced to three years on an appeal filed on his behalf by veteran advocate John Khaminwa.
"We gallantly fought it," he would say, adding that at the time of the reprieve, he had served almost two years.
Besides the physical torture, Olel also endured dehumanising emotional assault which he said were meant to extract loyalty from them.
"What do you feel if someone brings you food in a room where you are five of you and the buckets full of your wastes are still there with you and the food is also badly cooked and dirty?" he posed.
Adongo Ogony is a Human Rights Activist and a Writer who lives in Toronto, Canada