That is my good friend Ndung'i Githuku at the event where Raila went to have a chat and share food with the mothers and families of political prisoners and detainees on Sunday, and where he also took the opportunity to condemn the madoadoa talk that has become the topic of discussion about the Saturday's Eldoret Ruto rally.
Raila was at Kibiciku grounds in Kabete to meet the group and listen to their concerns as mothers of political detainees and prisoners many of whom have died from the health damages they suffered in Nyayo House and elsewhere and the government of Kenya ignores them completely.
Ndung'i has been involved in the freedom struggles for our country in many ways. He is an activist who works on the ground with just about every human rights movement in Kenya and I am happy he was able to get something like this going.
Ndung'i is also a filmmaker and music artist. His documentary on Kenya freedom fighters in Kenya entitled "We lived to tell" won him several awards around the world and we invited him here in Canada to show the documentary.
This is Raila with Leah Wanjiru Mungai.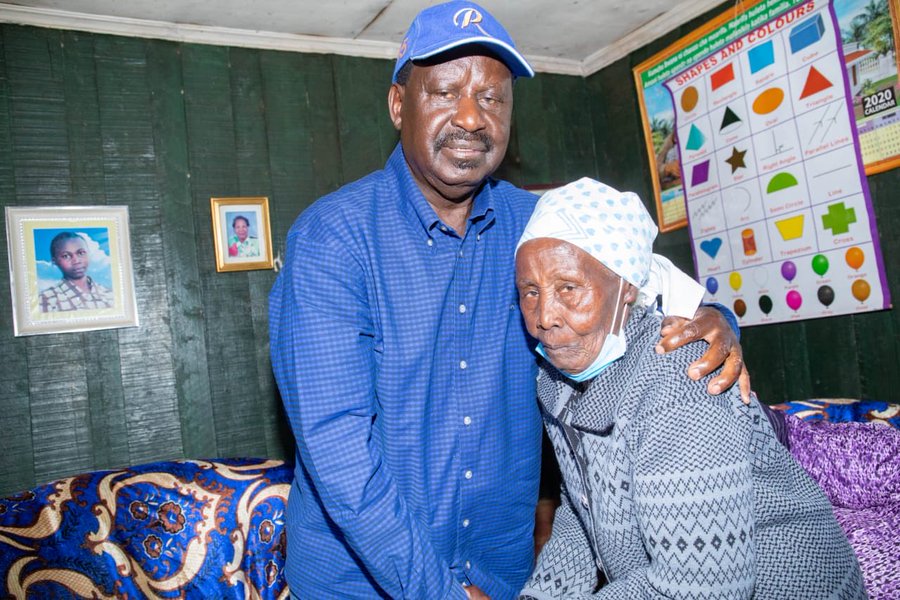 Wanjiru is the mother of Kang'ethe Mungai who spent time in jail and later joined the Kenya Human Rights Commission (KHRC) and did tremendous work there and helped to turn KHRC into a primary human rights movement in Kenya.
Here is Leah Wanjiru Mungai in protest after the mothers of political detainees and prisoners were attacked by Kenya police at the Freedom Square in Uhuru Park.
They took off their clothes, the last thing they had left and the nation paid attention.
Kenyans told Moi he cannot abuse those mothers and it stopped.
This was the time when YK92 was part of police operations and were there in Freedom Square to help beat up mothers just praying for their sons.
Kang'ethe and the KHRC helped to set up People Against Torture (PAT) which became a very effective voice for ex-prisoners and detainees and helped us a lot in documenting our cases and suing the government for torture.
Another good friend of mine Njuguna Mutahi, the brother to the late Wahome Mutahi ran PAT and they were super committed to helping end torture in Kenya and help the survivors of torture. I was actually in Kamiti prison with both Njuguna and Wahome Mutahi.
PAT helped me to win my case in 2014 even though the government has still not paid me everything I won in court but it worked.
I got paid some money for the torture and damage and I am now suing the government for contempt of court for refusing to pay the balance.
That case is up next month in February 2022.
The other son of Leah Wanjiru escaped into exile and went to Australia.
The youngest son of Leah Wanjiru was with us in Tanzania as refugees and when we left to go to different countries, he refused to leave and said he wants to go back to the country and fight directly to help free the country. That was one hell of a brave patriot.
And then there is another comrade that probably only Ndung'i knows his name.
He was in Tanzania, a refugee too and even the idea of migrating to Europe or North America just annoyed him.
He went back home and became a pretty good local producer of food in Nairobi.
We know him as Wa Matope, his chosen name.
That name means "from the soil", or it could mean "in the soil" or just "the soil".
That is Wa Matope.
Just beautiful people involved in the struggle for a free nation called Kenya.
It is good to see Mungai's mother looking healthy and being appreciated by a national leader like Raila whom they know very well.
These women suffer silently as the politicians prance around as if they have ever done anything for the country.
Our country needs to honour, respect, and compensate these women and we will do it. That is a promise, not a threat.
Adongo Ogony is a Human Rights Activist and a Writer who lives in Toronto, Canada