Just after the historic Azimio Convention where Raila Amolo Odinga launched his presidential bid for 2022 on December 10th, causing so many unsettled stomachs among his rivals who were hoping for a lukewarm event which was supposed to be boycotted by President Uhuru, something else happened that has thrown that mob into some form of seizure.
President Uhuru not only invited his new buddy, Raila Odinga to the celebrations at Uhuru Gardens, but the president also did something unthinkable to those praying night and day that somehow Uhuru will just dump Odinga, and give Ruto some breathing room or better still support Gideon Moi for the presidency. That is their latest wishful thinking after realizing Uhuru is not putting up with Ruto for 2022. Now they are hoping Uhuru goes with Gideon Moi.
What Uhuru did at the Uhuru Gardens is to invite Raila right as he was giving his presidential speech to come to the podium and have a few words for the nation. That is unheard of and is a clear sign of politicians and friends who want to work together for the country.
And the topic of discussion at that time was about land grabbing and the hoodlums who just grab public land everywhere.
Turns out that Uhuru Gardens and the museum being built there had actually been grabbed by none other than our resident land thief with no shame and Uhuru had to take it back and build it as a public facility.
Those land thieves were not just unhappy that their attempted land grab was thwarted and land taken back but they were even more annoyed that President Uhuru is giving Raila such a national platform to say a few words to Kenyans, and damn it Raila was taking the opportunity to talk about the evil that land grabbers commit against Kenyans.
Raila Odinga congratulated Uhuru Kenyatta for work done on Uhuru Gardens, saying it showed his vision as president. Raila revealed that the president had recovered the land from grabbers.
"People are going to be surprised at what you've done here."
Raila revealed that the land had been grabbed by those who see open space and cannot stop themselves from grabbing them.
After the Azimio Convention, the Ruto crowd with their ritual singing at his cathedral in Karen were hoping that things go quiet and they can ignore Raila. Not anymore. The Ruto mob has spent the last two days talking about nothing else but Raila, and their new failing message that Uhuru is trying to force people to vote for the Azimio la Umoja Movement leader.
Read: Azimio Convention disappoints some and puts Odinga on the path to being Kenya's 5th President
"We will not be intimidated," the likes of Rigathi Gachagua keep screaming. We all know who Gachagua is voting for. He needs his mega corruption case thrown out of court.
In fact, the other talking line they have now as the reason they are facing their corruption cases is that they are being punished for stealing our money and resources because they support Ruto, and this is a form of political persecution. Hopefully, Ruto didn't ask you to steal public money so deal with it and let Ruto deal with his cases.
He has enough of them all across the country.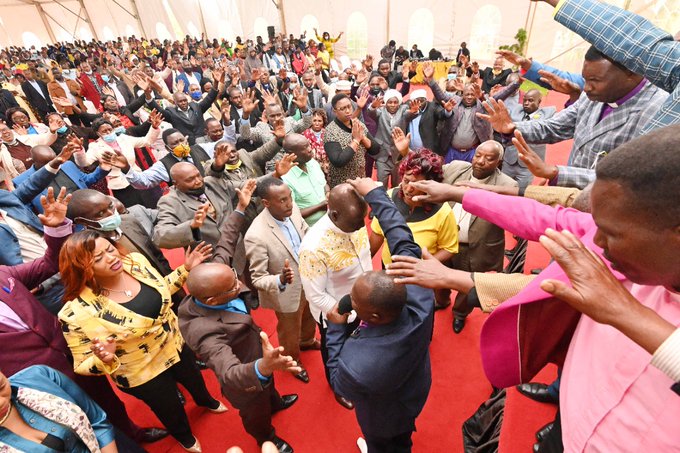 The other issue the Ruto mob is struggling to explain is the arising consensus that the handshake was good and timely and has set our country on a new politically healthy path. And of course the history between the Kenyattas and the Odingas.
Ruto of course hated the handshake from day one and quite frankly I am very sure he regrets that decision because Ruto can see Kenyans are happy with it.
Ruto and his mob want to resurrect oh we had problems because so and so was promoting violence and did not accept the results of the election. That is a dead narrative. Kenyans want to accommodate each other and move on with their lives.
So according to this group who are speedily running out of anything useful to tell Kenyans, the next several months will be used to defend the corrupt and the thieves among them and whining about Uhuru forcing people to vote for Raila.
As we approach March-May 2022 when things get sorted out, and the numbers start looking awful for Ruto plus his UDA friends, they are going to implode. For Ruto and his friends, they won the 2022 elections years ago.
Ruto was supposed to be just cruising on the runway ready for take-off and then in just about 2 months, they can't go anywhere without the shadow of Raila towering over them. Now you add Uhuru to that picture it is just super scary.
And then there is the calmness about Raila and how he is going about his business that is truly unraveling them.
Ruto and his friends cannot go anywhere without being angry, annoyed, and complaining about just about everything.
Being angry at Uhuru and his allies while also trying to harvest the Mount Kenya vote is as dumb as it gets.
Uhuru has his votes and they are going to go with him not because he will force them but because they trust him way more than they trust Ruto and the likes of Rigathi and the permanent wood stock around Ruto.
If you want those votes you will have to sit down with Uhuru and work things out. Otherwise, forget it. Sometime back Mutahi Ngunyi came up with his tyranny of numbers theory and some of us were mad with him but he was right on the money.
That tyranny of numbers in the 2022 General Elections is now with Uhuru and Raila and it is not about Kikuyu and Luo votes.
Uhuru has a national constituency, not just Mount Kenya and Uhuru is a polite nice guy so there are very many Kenyans from all tribes who will listen to his advice, and right now we know what that is.
Raila has also extended his constituency right across the country and this is his best campaign where he is not fighting against anybody and therefore will just go out there and politely ask for votes. He is going to get them.
Ruto and his mob are trying so hard to define Raila for us like they always do, but Raila has done such a wonderful job defining himself to Kenyans and they seem to like that person.
The OKA leadership will determine their own fate but I suspect they will opt for coalition building and teamwork whatever form that will take.
Adongo Ogony is a Human Rights Activist and a Writer who lives in Toronto, Canada