"I have no idea who this woman is." Trump declared after the verdict of guilt on him was read from the jury.
Well now you have every idea who Jean Carroll is Mr. President, don't you? Take your time you will figure this out and the consequences that will follow will be in your face.
"We'll appeal. We got treated very badly by the Clinton-appointed judge," Trump said. "And [Carroll] is a Clinton person too."
"The world finally knows the truth," Carroll says following verdict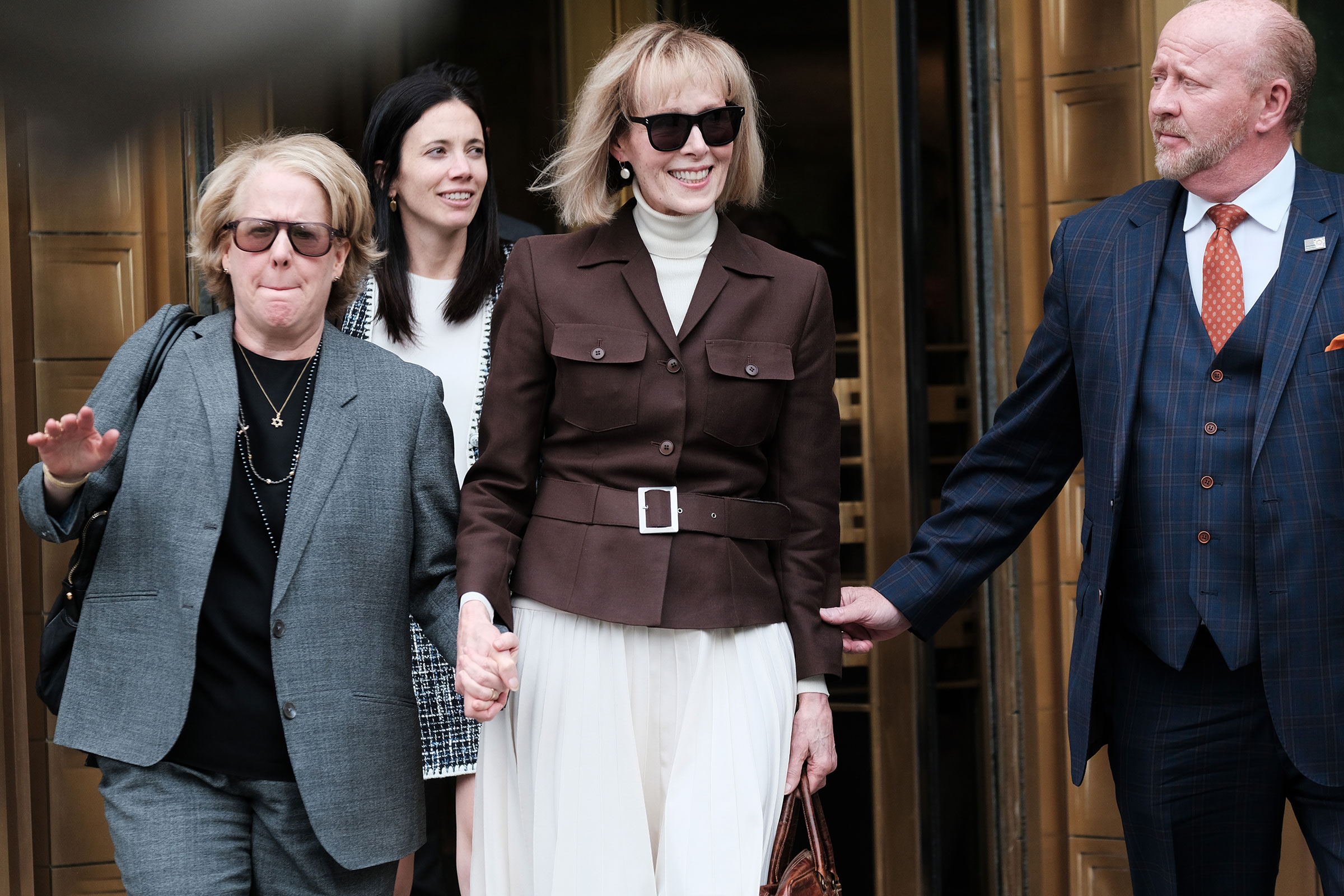 E. Jean Carroll called the outcome of her civil lawsuit against former President Donald Trump a victory for her and other victims of abuse.
A jury found Trump liable for sexually abusing and defaming Carroll on Tuesday.
"I filed this lawsuit against Donald Trump to clear my name and to get my life back," Carroll said in a statement. "Today, the world finally knows the truth. This victory is not just for me but for every woman who has suffered because she was not believed."
She also thanked her legal team and those who stood by her.
Her attorney Roberta Kaplan applauded Carroll's determination and courage to speak out and seek justice. "No one is above the law, not even a former President of the United States," Kaplan said.
"For far too long, survivors of sexual assault faced a wall of doubt and intimidation. We hope and believe today's verdict will be an important step in tearing that wall down," Kaplan said, adding, "This is a victory not only for E. Jean Carroll, but for democracy itself, and for all survivors everywhere."
Maybe there are other matters. But this guy wants to be the president of the United States of America (USA). That is another matter.
And more from the CNN report:
E. Jean Carroll says verdict in Trump abuse case is a victory for all victims of sexual assault
E. Jean Carroll said Wednesday that a Manhattan federal jury's finding that Donald Trump sexually abused her in the spring of 1996 – awarding her $5 million for battery and defamation – is a victory for all women who are victims of sexual assault.
"The old view of the perfect victim was a woman who always screamed. A woman who immediately reported a woman whose life was supposed to fold up and she's never supposed to experience happiness again," Carroll told CNN's Poppy Harlow on "This Morning." "That was just shut down with this verdict, the death of the perfect victim has happened. Now this verdict is for all women."
Asked by Harlow what she was thinking when the jury did not find that Carroll proved Trump raped her, Carroll said, "Well, I just immediately (said) in my own head, 'Oh, yes, he did. Oh yes, he did.'" When she shook hands with Trump's lawyer Joe Tacopina, she said to him, "he did it. And you know it."
Carroll alleged that Trump raped her in the Bergdorf Goodman department store and then defamed her when he denied her claim, said she wasn't his type, and suggested she made up the story to boost sales of her book.
Trump has denied all wrongdoing and does not face any jail time as a result of the civil verdict. He has said he will appeal the verdict.
Carroll, who called the verdict a "great moment," said she is happy to get her name back and will soon get a new dog now that the trial is over.
"I'm really sort of taking in the moment and the overwhelming flood of a lot of hate that's part of it," she said, adding that she is feeling an "overwhelming amount of relief and joy."
"There's a sort of a feeling of victory that, at last, somebody has held him accountable in a courtroom," Carroll said.
Adongo Ogony is a Kenyan Human Rights Activist and  Writer who lives in Toronto, Canada