The country is in a full political battle for the 2022 General Elections and nobody can deny it anymore.
We have the battle of the new Political Parties Act 2021. Ruto and his UDA mob promised they will crash the bill in parliament. They came up with a whole bunch of amendments to cripple the Parties Act.
The fact that the best Ruto and his crew could do was to introduce amendments rather than just oppose and throw out the bill is testimony to the fact that the Ruto UDA squad knew they had no chance of stopping the bill.
The Ruto amendments are going down in lose after lose in parliament. They will get some minor changes here and there but they have lost their noisy war to stop the new Parties Act and they will have to deal with that fact.
The details of this Parties Amendment Act 2021 are not clear yet but one thing is certain. President Uhuru Kenyatta and the Azimio leader Raila Odinga want to be able to form a coalition party to go for the presidency and the National Assembly in August 2022.
Read: Mbadi suspended for 5 days after smacking fellow MP on the face
Ruto of course is terrified about the fact that if Uhuru and Raila work together for the 2022 General Elections they will beat him and confine him to the opposition bench or maybe retirement. After all, Ruto has been in politics and in government for 30 plus years. Talk about dynasty. Ruto has the longest dynasty in the Kenyan government.
Why is this coalition bill important for Uhuru and Raila. First and foremost both of them want Azimio Coalition to be the primary political party in our next General Elections.
With a coalition, Azimio will be just simply unbeatable. Raila and ODM would field candidates where they have the numbers and Uhuru and his political friends will field candidates where they have the numbers. Ruto knows he can't beat that. It is just simple math.
OKA leaders will choose which alliance they want to join and the rest is done.
So the new Parties Act is done and Ruto now knows that things are just starting to be very tough for him.
In reality, this Parties Act 2021 favors nobody.
The Parties Act is neutral and Ruto can build the same alliances and coalitions that Uhuru and Raila can build.
What is the problem?
While all these stuff was going on William Ruto was in the hospital visiting his "Hustler Twitter" big warrior Dennis Itumbi.
The Deputy President while at the hospital talked about Itumbi being a victim of state violence against him.
Now if the Deputy President is saying that the government in which he is the second most powerful leader is trying to kill citizens maybe he should provide evidence of that or resign from that government if he has any principles on human rights.
Read: Was Dennis Itumbi kidnapped and tortured by self confessing police officers?
I mean just what kind of government do we have in Kenya today where the Deputy President is alleging that his boss, Uhuru Kenyatta is torturing and trying to kill his supporters.
Maybe soon Ruto and Uhuru are going to have a boxing match like the one M.P Mbadi had with his counterpart Bernard Koros in parliament yesterday. Oh my.
But one thing is clear by now. Uhuru and Raila are going to be on one side and Ruto and whoever wants to join him in UDA will be on the other side.
Good luck to both parties. Just keep it peaceful and avoid drama and crap. Kenyans don't need that.
Then the new polls dropped and from them, Raila is just barely ahead of Ruto, 33% to 32%.
Personally, I don't care for these polls. They are just nonsense, particularly at this time. I will pay attention to the polls in April and May next year.
But is it amazing how Ruto noisemakers like Ahmednasir and others are freaking out about the polls and in fact claiming that this particular poll was done by an outfit run by Luos. Get a life.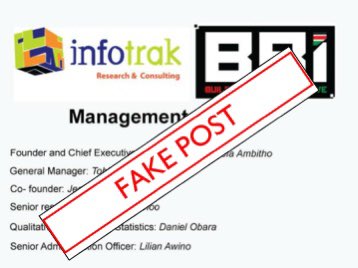 The last time polls came out and Ruto was ahead these same people were thrilled with it.
They didn't tell us the ethnicity of who conducted the polls. In fact, they didn't tell us who conducted the polls at all. Ruto was supposed to be on the lead and that is all they need.
Read: Infotrack Poll: Odinga most preferred presidential candidate, followed by Ruto
He was already the president as far as they were concerned. Since 2018. It is falling apart badly.
When Ruto loses the elections he will accept it. He is a smart guy. But I feel sorry for the Ruto hangers-on including my very good friend Miguna Miguna.
They don't even campaign for Ruto but they are dying for a Ruto win. When Ruto loses they will be ones stuck with their Twitter in the toilets. Ruto will be just fine and will work with whoever is in power.
And then we have Ruto's sidekick and possible Deputy Presidential candidate, the notorious Rigathi Gachagua with a 12 billion corruption case in court saying that he is afraid that President Uhuru Kenyatta will not be neutral in the elections. Thanks for noting the obvious.
Why the heck should Uhuru be neutral in the next elections. Uhuru is still a Kenyan and has every right to support a presidential candidate and a party of his choice.
If Uhuru chooses to support William Ruto that is fine. If Uhuru instead chooses to support Raila Odinga for the presidency that is fine too.
It is what it is. Nothing more. Kenyans will deal with it as they choose. That is what elections are about.
Adongo Ogony is a Human Rights Activist and a Writer who lives in Toronto, Canada