William Ruto has been in government for more than 30 years since he left college and obviously, he has nothing to show for it. He talks about dynasties and yet he is the single biggest symbol of a political dynasty in Kenya and quite an ugly dynasty if you look at the record.
This guy has never known a single day's work anywhere. We left college and went to work. For me, I was employed as a lecturer at the then Mombasa Polytechnic until Moi put me in jail after trying to kill me at Nyayo House torture chambers for months.
When Ruto left college in 1992 he says president Moi gave him a piece of land in Eldoret. When he was asked whose name was on the title deed Ruto said the land was for development. In other words, William Ruto started life not as a chicken seller which he claims but as a beneficiary of grabbed land which was handed to him by president Moi.
Now Ruto wants just five more years to complete his grabbing stampede which has lasted 30 years and then he will be fine. No more my friend. Kenyans are throwing you out of the grabbing business. They are tired and there is little left to grab.
"Moi was a very generous person, he really went out of his way and maybe some of the traits some of us have of giving we may have learnt from him," said Ruto.
Ruto narrated an instance when Moi gave him a piece of land.
"My first interaction with Moi, when it comes to …… A few of us university students. We went to see him at one point and we asked him to give us a piece of land in Eldoret. And he actually did and we sold the piece of land. With that piece of land, I bought my first car," Ruto added.
According to Ruto, there were pieces of land during that time that were being given for development and that is the land Moi handed them.
Ruto stated that how the former president gave them the land was legal.
"I do not think that Moi went out of his way to do something illegal and even if maybe people later went and did things the wrong way that was not Moi's thinking. Moi just wanted to help and he wanted to help people within the law," he said.
Right after Moi gave him the land Ruto went ahead to form YK92 to terrorize and kill Kenyans who were fighting for multi-party democracy at the time and KANU vowed to crash the effort of bringing democracy into our country. Ruto was ready to help and he did so very aggressively.
As we know YK92 was the first terrorist organization ever to operate in our country, long before Osama bin Laden and his Al Qaeda showed up to blow up the US embassy in 1998 and now we have the really nasty Al Shabaab.
In fact, YK92 members were also the thugs who introduced wheelbarrow politics in Kenya. The only difference with Ruto's current wheelbarrow politics was that YK92 Ruto wheelbarrows were loaded with Shs 500 bills from the Central Bank of Kenya (CBK) on a daily basis for Ruto and his friends who effectively bankrupted the country and led to the suffering of millions of Kenyans.
The new wheelbarrow politics that Ruto wants is different from their real wheelbarrows loaded with our money going to their pockets.
Read: Raila scares the hell out of those robbing the country blind. They know themselves
Below is the new wheelbarrow Ruto wants for Kenyans. It doesn't look good. Does it?
Which wheelbarrow do you want? The one loaded with those bills above which Ruto got for years or the one below which Ruto wants to provide to Kenyans for the rest of their lives? This is the wheelbarrow of a looted country. Do Kenyans want it? I don't think so.
But that decision will be made on August 8, 2022, by Kenyans at the ballot box.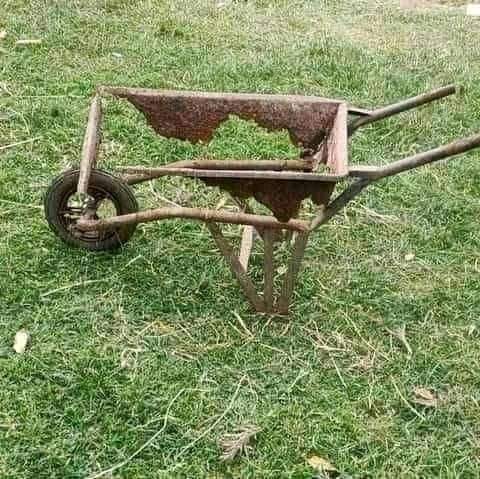 So yes Ruto has a track record in Kenya and it is a catastrophic one for the citizens and great for his wealth accumulation at the expense of ordinary Kenyans. It has nothing to do with selling chicken.
Moi was so impressed with William Ruto that he made him the only assistant minister who was allowed to attend cabinet meetings.
Since that time in 1992, Ruto has been in all governments and has served 9 years now as the deputy president of our republic where his record has been to attack and sabotage his boss.
So just one question. What has William Ruto achieved for Kenyans during that period?
His YK92 killed people to protect a one-party dictatorship by his godfather but since then he has opposed every effort to change the Kenyan constitution.
Even the 2010 Katiba which Ruto now vows to defend he aggressively opposed it claiming the new constitution will allow gay marriages in Kenya. Of course, Ruto was looking for an excuse to oppose the constitution.
He lost that battle just like he is about to lose his only hope to be the president of our country.
"Tumekua na mjadala ambayo rais wetu alituambia yake kumi na yangu kumi. Lakini mimi sitaki kumi, nataka tuandikane hii ya miaka tano kwanza. Nikifaulu kufanya kazi kwa hii miaka tano mniongeze ingine. Nikishindwa mtafute mtu mwingine," Ruto said while meeting Nyeri residents on Monday.
So why does Ruto want 5 years now instead of ten? One thing is obvious. Ruto can feel the ground shaking and it is not looking good for him.
And then the earthquake thing with Mudavadi is a nightmare by itself. Ruto needs to choose Mudavadi as his running mate to get votes from Mudavadi's base. He cannot do that because that spot has its owners and he cannot change it. So maybe Ruto can fool Mudavadi that he will take five years and then it will be Mudavadi's turn.
Remember the kumi kumi thing which has fallen apart. Now Ruto wants to do a tano tano on Mudavadi. When it rains it pours and this is not even the beginning of Ruto's problems.
It is going to be a complete collapse for him. Once Uhuru abandoned Ruto, he died politically and he is beginning to see that. Good for him.
Soon enough Mudavadi will see the light or the darkness at the end of the tunnel as well, but it will be too late for him just like it is already too late for William Ruto.
Adongo Ogony is a Human Rights Activist and a Writer who lives in Toronto, Canada