Raila Odinga held his 2022 inaugural rally in Thika last Friday, January 7, 2022, with a lot of pomp and substance. It was a critical rally for Raila and the Azimio movement.
A couple of things were important for this rally. One was whether people would come to the rally and show support for Raila and the Azimio team.
The Ruto twitter warriors like Ahmednasir Abdullahi were busy from the morning taking pictures of the empty stadium and peddling them online to try to show that there was nobody at the rally and that Raila will only address the grass in the field.
When the time came the stadium was packed right up to the stand where Raila was on the podium. The Ahmednasir's couldn't bear that and their cameras and Twitter noise-making went silent.
One thing became very clear. Raila is getting a real and very good connection to the population in these neighborhoods and that must scare the hell out of Ruto and his standby admirers who are beginning to feel that if Raila gets that particular population with him he could very well become unbeatable.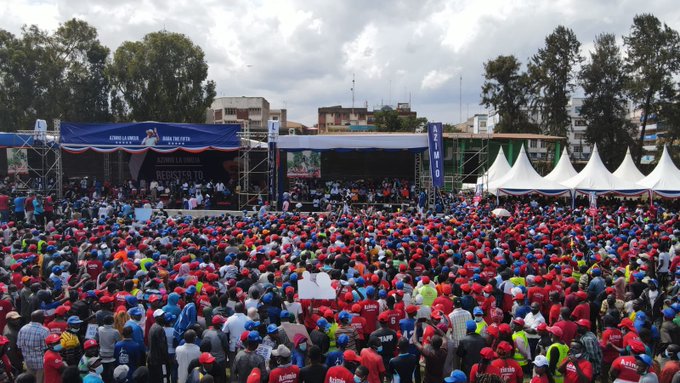 And then Raila did what he does best. After his rally in Thika, Raila went for a meeting with the regional leaders in Thika University to drive home his agenda with the community. This is another level that will drive Ruto nuts.
Raila just doesn't hold rallies. After his rallies, he organizes community consultation meetings which are very important in ironing out policy issues and concerns, and the community leaders put on the table the things they want to see done.
He did that in Taita Taveta recently and did the same in Mombasa where he met thousands of community leaders and they ironed out what was required to address their concerns for them to support Raila and Azimio movement. That makes a big difference.
One important aspect in relation to the Thika rally is that early in the week prior to the rally President Uhuru Kenyatta held a New Year meeting at State House attended by 170 M.Ps and other dignitaries and Raila Odinga was invited in that meeting and they had good discussions.
It is getting increasingly clear that Uhuru is going lock and step with Raila for his campaign for the presidency this year. If you are Ruto, you underestimate that at your own peril.
There is all that talk about OKA this and OKA that. One thing is for sure. Raila cannot run another NASA presidential election effort. So Raila and his OKA friends will sort their issues out one way or the other.
My position is quite simple on this matter. It would be great for OKA to work with Raila and Azimio but what Raila gets in terms of votes working with Uhuru in Azimio is ten times what he would get working just with OKA. And the votes Uhuru brings come directly out of Ruto's pocket. It is a game-changer in the 2022 General Elections.
At Thika's Mt Kenya University meeting with community leaders, Raila made specific policy plans and one that caught my attention is that a Raila presidency will set up a special fund to help single mothers something we never hear from our politicians some of whom may not even know that there is a population of single mothers in Kenya who face very difficult living conditions.
Raila also repeated his plan if he becomes president to ensure everybody can have access to NHIF and specifically said that under his leadership the policy of detaining people in hospitals because they have not paid money owed to hospitals will be stopped.
It is actually a crazy policy because the more you stay in the hospital the higher the bill gets. Raila promised that his government would pay such expenses so that people are released from hospital as soon as their treatment is complete. That is something that should have been done a long time ago.
Raila said he will jail thieves of public money and resources and the Ruto supporters are crying Raila wants to jail Ruto. Why. If Ruto has not been robbing Kenyans, he has absolutely nothing to worry about.
Now as soon as Ruto heard that Raila intends to jail thieves, he went ballistic claiming that Raila intends to lock him up at Kamiti.
Ruto scoffs at Raila's threat to jail him in Kamiti, read the headlines in the Sunday Star.
Speaking at Kware in Embakasi South Constituency, the DP said he will not be intimidated by threats from opponents.
"Don't waste your time trying to sell fear to us, we have told you we are not buying threats and intimidation," Ruto said.
Nobody who listened to Raila's speech in Thika specifically his promise to stop public theft of resources by putting thieves of public money and resources in jail heard any mention of Ruto being put in jail.
So why does Ruto think jailing thieves robbing Kenya's public money means jailing William Ruto? The guilty are afraid we know but does Ruto think he is the only thief robbing the country?
How about his friend and possible DP candidate Rigathi Gachagua who is sitting on a 12 billion theft charge. Is he also crying that Raila is promising to put him in jail? How about Governor Okoth Obado who is also sitting on massive theft charges for cleaning up the Migori County funds?
Is it any wonder that all those people are tying themselves to Ruto and his hopes to win the presidency.
Is Ruto telling Kenyans that if he becomes president his first duty and primary obligation will be to cut out all charges against himself and his buddies already before the courts?
Is that what Ruto is telling Kenyans to elect him to do for them? How does such actions help Kenyans?
Of late Ruto has been making Raila Odinga the primary topic in his rallies. After the Thika rally Ruto has now gone completely overboard and now it is Raila wants to put me in jail, Raila ordered people to stone me, Raila is a violent person and on and on it goes. What happened to telling Kenyans what you want to to do for them?
My idea on the Thika rally was that Raila would avoid talking about William Ruto because Ruto has turned his rallies into angry tirades against Raila.
But it seems Raila decided he has to lay a couple of knock out punches on Ruto and he put them on.
Raila took Ruto head on about some of the promises Ruto made to Kenyans back in 2013 during his first term as the deputy president.
Raila asked what happened to the Ruto promise of laptops for Kenyan school children which has now turned into wheelbarrows for those coming out of school.
It is obvious to Kenyans that the kids that Ruto promised to give laptops are now graduating from primary school and ready to go to Secondary Schools and instead of Ruto telling these kids and their parents how he will help them get on to the next stage of their education, Ruto is offering them wheelbarrows to go move dirt from one place to the next.
Raila on the other hand has put accessible and affordable education as one of the top items in his agenda if he gets elected as the 5th president of Kenya.
Raila asked what happened to the promise of one stadium per county that Ruto promised. Did the handshake ruin Ruto's plans to build stadia in Kenya?
And corruption is everywhere which is why Raila promised to deal very harshly with the corrupt leaders and their agents stealing everything in the country.
Raila asked Ruto what he has done after 9 years as the Deputy President.
What exactly is Ruto's track record? Zero, Zero, Zero.
Ruto always asks Kenyans to judge his opponents by their track record. Raila was asking Ruto if he can also be judged by his very abysmal track record.
Ruto now has to figure out what to do next.
And Ruto did exactly that. As the Raila Thika rally was going on, Ruto was announcing the mother of all rallies in Jacaranda in Nairobi.
I have no idea how that went and I am not going to behave like Ahmednasir providing photos of alleged empty rally grounds.
But we know one thing for sure. Ruto expressed outrage that he may end up in jail if Raila gets elected as our next president the whole day in Nairobi.
That is really a non issue for Kenyans. Presidents don't send people to jail unless he is Moi, Ruto's darling sending people to detention where Raila himself was kept for nine years not for stealing from Kenyans but for fighting to end one party dictatorship.
It is the courts that send thieves to jail whether it is a chicken thief or any other thief.
In Kenya presidents don't really worry that much about chicken thieves but the presidents can stop the courts from taking the big time thieves who rob huge amounts of money from the national Treasury from being sent to jail and that is why not a single one of the politicians and their friends who rob our country off billions every year has ever been sent to jail.
Raila wants to stop that and that is why Ruto is going nuts thinking about that possibility when he is facing outstanding cases of land theft in Nairobi and Eldoret.
Oh poor William we feel very sorry for you. May be you can negotiate a settlement and just hand over the stolen public land and properties.
Or better still as soon as Raila Amolo Odinga is elected the president of Kenya rush to State House even before he is sworn in and offer him a vigorous handshake to solve the problem chap chap.
But then again Ruto hates handshakes.
Now what to do if Raila gets to be our next president. That will be up to the courts and Ruto if indeed he is one of the thieves destroying the economy of our country.
For the next little while Ruto is going to spend his entire time in the rallies crying about Raila and saying nothing important to Kenyans. It is crybaby time for him. My advice to Raila is don't waste your time with him. Let him cry himself to sleep. Nobody cares.
But I fully appreciate the response the Raila team came up with when Ruto was screaming all day that Raila has organized people to stone him at Jacaranda Grounds.
Ruto went on and on about Raila having a history of violence. The Raila team said this:
"Violence has been part and parcel of Ruto's brand of politics right from the time he introduced himself to Kenyans through the YK92, through 1997 to 2008. Other than the use of money to buy support, violence is Ruto's main tool for political ascendance,"
The Raila group also claimed that Ruto was arranging these violent activities to justify him unleashing madoadoa violence in Rift Valley.
We don't know which is which but the clear message to Ruto is that at this stage if he wants to play hardball that is exactly what he will get back. Time for jokes is done.
Ruto is now busy calling on Raila to commit that he will accept election results if he loses in the August presidential elections. Fair enough.
How about Ruto also commits that he will accept to go to jail peacefully if he is convicted of theft of the public property of Kenyans. That could be an excellent deal between them that will benefit the country. Deal?
Adongo Ogony is a Human Rights Activist and a Writer who lives in Toronto, Canada