Maybe Ruto's new Inspector General nominee Japhet Koome can put to use the Special Service Unit (SSU) being dismantled by his new boss. Those SSU operatives are being accused of harassing and carrying out killings of people that their boss DCI chief Mr Kinoti asked them to take out.
From affidavits filed in parliament during the vetting of Japhet Koome, it seems the man himself is an expert in managing to kill unwanted Kenyans, including kids, when he is charged with the responsibility of protecting his bosses as he allegedly did in 2017 as a Police Commandant of Nairobi – in the chaos following the 2017 Presidential Elections.
This is what has emerged at the hearing so far.
2017 post-poll violence haunts IG nominee Koome:
The affidavit cites two instances: The murder of Stephanie Moraa and the storming of UoN by police.
Inspector of General of police nominee Japhet Koome on Tuesday fought off 2017 ghosts as he seeks MPs' approval to succeed outgoing police boss Hillary Mutyambai.
Koome, who until his appointment was the Commandant of the Police Training College-Kiganjo, was confronted with allegations of serious human rights violations under his watch when he served as the Nairobi Police Commandant.
The allegations, contained in a sworn affidavit filed with the joint committee vetting Koome, cited a 2017 case in which nine-year-old Stephanie Moraa was killed by a police bullet at their house in Mathare.
The affidavit by Zaina Kombo also cited a September 2017 incident where GSU officers forcefully stormed the University of Nairobi's Architecture Design and Development buildings, apprehended and tortured students with batons, slaps, kicks and gun butts for seven hours.
"According to the report, students were forced to do pushups among other forms of unusual and cruel treatment prohibited under Article 25 of the Constitution. Female students were groped, and Luo and Luhya students were targeted for their perceived inclination," Kombo said in the affidavit.
The petitioner further alleged that the nominee refused to cooperate with investigating agencies that were probing the two incidents that caught the nation's attention.
Kombo contested the nomination, saying the incidences were serious human rights violations that happened under Koome's command.
"Japhet Koome was in command of Nairobi county during a time of widespread human rights violations not seen since the 2007-08 post-election violence," she argued.
But Koome denied any wrongdoing, saying the two cases were robustly investigated judicially and he was not indicted in any of the instances.
"The matter [Moraa murder] was investigated before the court of law, families and officers gave evidence and I was not found culpable," Koome told the joint committee.
He also denied claims that he did not cooperate with the Independent Police Oversight Authority, one of the authorities investigating the cases.
"If I did not cooperate, Ipoa would have brought a petition here that the nominee did not cooperate," Koome said.
The Post Election violence after the 2017 elections was very serious and was going close to the dreadful PEV nightmare after the 2007/8 elections in which thousands of Kenyans lost their lives.
The epic centres of that violence were Kisumu and Nairobi. I was personally in Nairobi at the time and it looked like things were getting way out of hand as Kenya police was just shooting people everywhere and killing people including young kids.
The fact that Japhet Koome was the Commandant of the Nairobi police violence against citizens may make him a fit candidate for Ruto to be his IG but it raises a lot of questions about his fitness and lack of integrity to be the one in charge of the entire Kenyan Police force.
Are the operations he carried out in Nairobi going to be his guiding principles on how the police should deal with Kenyans? That should frighten every Kenyan.
This nine-year-old little girl Stephanie Moraa was shot in her family house in Mathare in Nairobi by the police under the command of Japhet Koome.
A nine-year-old girl killed in the informal settlement of Mathare on Saturday was hit by a high-caliber bullet that tore through her chest.
A post-mortem showed Stephanie was shot by either a G3 or AK47 rifle.
The family spokesman Nelson Gichana said the autopsy had revealed that the bullet tore through the chest and exited at the back near her heart.
"It has been confirmed she was shot. What we need now is compensation," Gichana said.
The autopsy was conducted at the Chiromo Mortuary in Nairobi. Officials from Kenya National Commission on Human Rights, Independent Policing Oversight Authority, and Independent Medico-Legal Unit were present.
The child was playing on the balcony of their house when she was hit in the chest by a stray bullet.
Nairobi police boss Japheth Koome termed the killing of the girl as unfortunate and added that the child was struck by a bullet during an exchange of fire between the police and an armed gunman in the area on Saturday.

The gunman apparently managed to escape from the scene, according to Mr. Koome.
The parents of the deceased and witnesses maintained that a police officer fired at her during the protests.
Her father Wycliff Mogaka said they are making arrangements to transport the body to Kisii for burial.
So far, a number of officers who used their guns during the violent protests in different parts of the country have been ordered to surrender them for ballistic tests.
Police say at least five people were killed in Mathare. Emergency service providers say they attended to more than 100 cases and 11 of them had gunshot wounds.
Here is the report from the Guardian about the Kenya DPP taking action against killer cops in Kisumu with regard to the 2017 PEV:
Kenyan police charged with crimes against humanity over 2017 crackdown
Twelve officers face charges including rape, murder and torture over response to post-election protests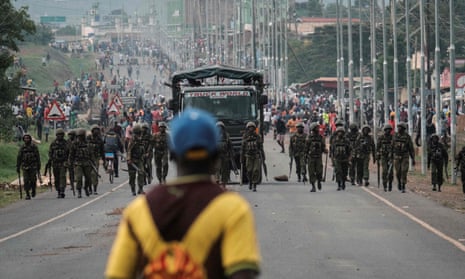 In a landmark decision, 12 Kenyan police officers will face charges of crimes against humanity over a deadly crackdown on post-election protests in 2017, prosecutors have announced.
The charges include rape, murder and torture and the case of a six-month-old girl whose death became a symbol of police brutality during the election aftermath.
"This is the first case of crimes against humanity charged under Kenyan domestic law using the International Crimes Act and also the first criminal prosecution of electoral-related sexual violence," the director of public prosecutions (DPP), Noordin Haji, said on Friday.
An official at the prosecutor's office said 12 mainly senior police officers were facing charges.
Dozens of people were killed over a four-month period during a police crackdown after the disputed presidential election in August 2017.
The Kenya National Commission on Human Rights documented 94 deaths during the crisis, as well as 201 cases of sexual violence and more than 300 injuries – most of which were attributed to security forces.
"The attacks were planned, coordinated and not random," the DPP said, adding that various offences such as torture, rape and sexual violence "were committed by or under the authority of senior national police officers".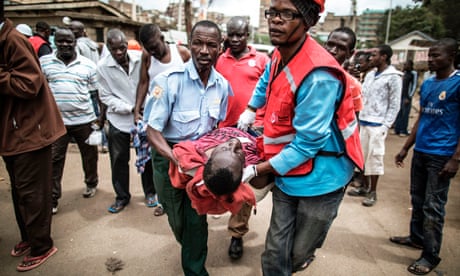 The baby, Samantha Pendo, died after being beaten by police during a raid on her house as protests flared in the western city of Kisumu.
Officers fired teargas into their house and beat down the door before raining blows on the couple with batons while the mother held Samantha in her arms.
An autopsy showed that Samantha had sustained acute head injuries including a skull fracture.
A Kenyan inquest in 2019 found five police commanders liable for her death but although they were later convicted they have never served time behind bars.
Extrajudicial killings are rife in Kenya, and justice is rare, with few examples of police being held to account.
The new UN high commissioner for human rights, Volker Türk, welcomed the Kenyan prosecutor's "groundbreaking" decision, saying it was "an important advance towards accountability for gross human rights violations in Kenya".
Türk said it was "a positive step towards justice and accountability for survivors and families of victims, including in the context of electoral violence, and can strengthen prevention of future violations".
Haji said on Friday that several people had been subjected to untold incidents of pain and suffering during the protest suppression.
"The operation had a well-organised command structure with sector commanders and was executed according to a consistent pattern," he said.
Kenyan police are often accused by rights groups of using excessive force and carrying out unlawful killings, especially in poor neighbourhoods. They have also been accused in the past of running hit squads targeting those investigating alleged rights abuses by police.
Here is the big question President Ruto must answer:
Why it is that at the time when the DPP is charging police officers in Kisumu with crimes against humanity for the killing of Baby Pendo and others in Kisumu in the 2017 PEV, you are appointing as your Chief of Police Japhet Koome who did the exact same thing in Nairobi including having his cops kill another little child?
What message are you sending to Kenyans? That killer cops are okay as long as they are your friends? Yes, Kenyans will get that message very clearly.
Adongo Ogony is a Human Rights Activist and a Writer who lives in Toronto, Canada