Sitting right next to Ruto was Moses Wetangula with Mudavadi not far from them when William Ruto went on a strange tirade about the Kenyan opposition having failed to do their job of stopping politicians like himself of course from robbing Kenyans.
Ruto blamed all that on Raila Odinga who he claimed was the leader of the opposition.
Someone sensible in the Ruto camp, if there is any such person, should have told him that the guy sitting next to him was a minority leader in the senate whose job among other things is to ensure that there is no corruption in the country and the counties plus no money is being lost.
In fact, the Senate has the power to call governors accused of corruption to grill them and send their cases for prosecution.
If Ruto wanted to know what the opposition is doing to fight corruption he should have asked Wetangula what is going on. But that is not Ruto's interest. Ruto with some of the biggest corruption cases now being dealt with in the courts has no credibility and obviously no interest in fighting corruption.
Everywhere Ruto goes now he seems obsessed with what kind of dirt he can put on Raila and his boss Uhuru Kenyatta. That is the new bottoms-up screaming point because Kenyans are getting tired of the other meaningless nonsense.
So if the opposition failed Kenya and is now the enemy of the people, why did you William Ruto grab two opposition parties and you are now parading their leaders as your new pets?
When the opposition leaders and parties support Ruto they are good but God forbid any opposition party joins Uhuru Kenyatta and Azimio Coalition then they are evil.
Kenyans of course remember that when all Kenyans and the opposition wanted to unearth the theft of billions from Kimwarer and Arror dam projects where Ruto's allies grabbed the money Ruto claimed no money was lost and there was no theft of money meant for the dams.
One of the disturbing issues, in that case, is that Kenya received Sh16.2 billion from Italian bank Intesa San Paolo for the construction of Arror and Kimwarer dams in a period when investigations into the misuse of funds in the project were ongoing.
Read: "Wezi Kwanza" Coalition now on the map. Kenyans will defeat them
The Treasury's public debt registry shows that the Italian bank wired the billions in the year starting July 2019, just days after former Treasury Cabinet Secretary Henry Rotich was arrested on suspicion of financial misconduct related to the construction of the two dams.
This suggests that the arrests or ongoing probe of a suspect loan deal to finance the construction of Arror and Kimwarer dams did not stop Intesa San Paolo from releasing additional debt for the project.
The register shows that Kenya had received Sh3.4 billion ahead of July 2019 when reports of and investigations into the alleged financial misconduct linked to the construction of two dams were in the public domain.
In September 2019, President Uhuru Kenyatta canceled the projects after receiving a report from a technical committee, which he had formed following the discovery of irregularities and improprieties surrounding the two mega infrastructure projects.
The cancellations came in a financial year when Arror dam received Sh11 billion while an additional Sh5.2 billion meant for Kimwarer was wired to Kenya. The Spanish firm was supposed to disburse a total of Sh74.3 billion (578.2 million Euros) repayable over 14 years beginning May 2021.
"Kimwarer Dam loan of Eur258,688,881.72 repayable in semiannual installments commencing 9th May 2021 and ending on 9th November 2035. Arror Dam -loan of Eur319,620,697.07 Repayable in semiannual installments commencing 18th May 2021 and ending on 18th November 2035," the debt register says.
Court filings by Director of Public Prosecutions Noordin Haji allege that Mr. Rotich facilitated the direct payment of the amount to Italy's SACE Insurance contrary to the law, which requires that all payments are processed through the consolidated account in Kenya.
The State reckons that the push to bypass wiring the cash to the consolidated fund was engineered to facilitate bribes and kickbacks.
The government made advance payments of Sh19 billion, including the Sh11 billion in unnecessary debt insurance, which prosecutors say was shared out in accounts belonging to the conspirators and their agents.
Mr. Rotich is accused of hiding behind government-to-government procurement to single source the privately-owned SACE and craft an exorbitant Sh11 billion cover for the dams' project, which had hardly taken off because designs had not been drawn while the Kenya Forest Service had declined to provide land. There were also concerns that the contractor CMC Di Ravenna- Itinera JV had gone bankrupt even after receiving Sh7.2 billion in advance pay for the project.
Evidence presented in court showed that CMC Di Ravenna- Itinera JV received Sh4.3 billion on September 27, 2018, as an advance payment for Arror dam. For Kimwarer, an advanced payment of Sh3.5 billion was approved on July 2, 2018.
The payment in two tranches for both Kimwarer and Arror dams was made to a web of associated companies in Kenya, South Africa, and Italy.
This is William Ruto and his friends robbing the country in billions and destroying dams that were being built in Ruto's own backyard. Oh so much love Ruto has for his people, for Kenyans, and for development in the country.
The other issue that Kenyans have raised serious concerns about is that Ruto's daughter June Ruto was working for the government of Kenya in Italy when all this was going on. Was she involved? I have no idea.
But the information in public is that June Ruto, DP Ruto's firstborn daughter joined the diplomatic service in 2014 and had previously been serving as the second counselor in the Kenyan embassy of Rome, Italy before being appointed as the country's Chargee D'Affaires in Warsaw, Poland.
Incidentally, June Ruto was 23 years old when she was appointed to work in the diplomatic services for our country in Italy. Congratulations because my nephews and nieces at that age are battling through college right now hoping to finish their studies in the next couple of years. For June at 23 years of age, she was a full-time employee of the government serving in a foreign country as our diplomat. Big job with big money and big benefits.
Isn't it equally strange that William Ruto was yelling about Kenyan leaders appointing their family members to work for the government instead of other more deserving Kenyans getting those jobs? Hello, June you may be fired if your father gets elected. Don't vote for him.
Say one thing and do the opposite. That is the Ruto we know so maybe June Ruto has nothing to worry about either way.
So Ruto is going to fight corruption by making sure that nobody catches him. Raila couldn't catch him so he is good.
On another note, the UDA operatives with Ruto were very adamant pushing President Kenyatta to come clean on the KEMSA Covid money and allegations of corruption on that file. I see no problem with that.
I also think this now opens the door for Azimio and even President Kenyatta himself to lay on the table whatever evidence they have about the theft of public resources and money associated with William Ruto. Let's open the whole box and let the chips fall wherever they may. Time is up.
Ruto also raised the issue that Azimio has a lot of corrupt thieves in their party and they brought them to the government. Great to point that out.
He said: "How can an opposition that runs a laundry for corrupt politicians tell us that they will fight corruption."
The Deputy President told Kenyans to hold the opposition responsible for rampant corruption in Government.
Dr. Ruto said the opposition had made it impossible to contain corruption since they were active participants
He said: "Today KEMSA is stinking because opposition leaders are beneficiaries of the programme's corrupt dealings, that is why it's difficult to investigate what happened."
The irony and madness of it all is that Ruto was talking and one of his new heroes in politics whom he said he may name as his running mate Rigathi Gachagua was sitting there with him.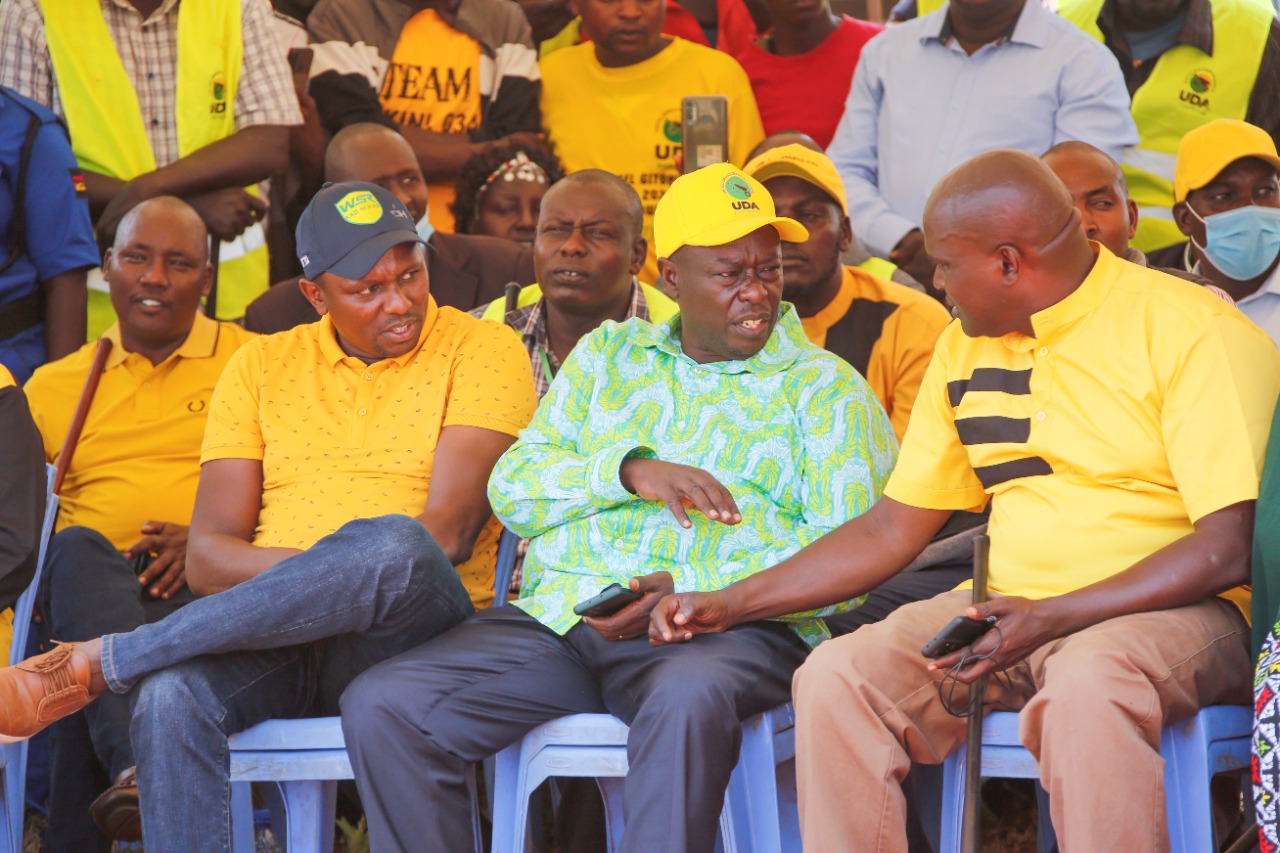 There is no bigger thief of Kenyan public money than Rigathi Gachagua. Maybe only his present boss is bigger in that department than him.
Rigathi Gachagua the Mathira M.P is facing a Kshs. 12.5 billion theft of public funds case in the courts. Obviously he claims the case are politically motivated. But Rigathi Gachuagua would give up his own life to get Ruto elected as the Kenyan president because that is the only way he escapes jail.
Read: Court: Rigathi Gachagua received 7B for supplying air between 2013 and 2020
So Raila allegedly brought thieves to the government and Ruto is right here and now babysitting a bunch of thieves who are financing his campaign so that Ruto can save their skins and allow them to keep stealing from Kenyans.
Now Ruto is telling Kenyans that it was the opposition and namely Raila Odinga who failed to stop him and his friends from robbing Kenyans. And for that he wants Kenyans to make him the president so he can continue doing the same and will not be stopped by any opposition party.
And here is the other new William Ruto hero. A thief of unimaginable proportion but of course, he is at home in UDA the party of thieves and Ruto loves it.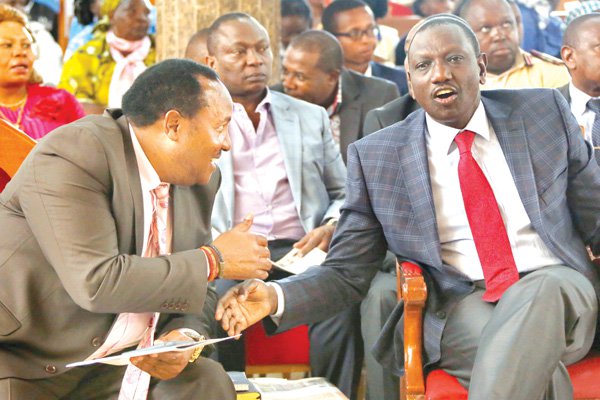 So Kenyans know William Ruto and his band of thieves now grouped in UDA. The good news is that the corruption issue is getting on top of the political agenda in Kenyan just at the right time, It is an issue Ruto would just want to go away but it won't.
Kenyans know if they don't stop corruption all those fancy ideas and projects being proposed by either party are dead in the water. It is pretty obvious to everybody and that is why even Ruto is trying to do some lip service on it. He will not dupe Kenyans who clearly know his own personal record on corruption.
While all this was going on, William Ruto got himself into a fight with the DRC ambassador to Kenya Faucine Mayumba when Ruto told his rally that DRC does not have a single cow. The ambassador asked Ruto to apologize to the government of the DRC for making up stories about DRC.
Mayumba said.
"We are friends to Kenya, a candidate running for the highest office of the Country William Ruto need to be diplomatically conscience as KENYA need to strengthen economic ties in the region for Kenya's internal Economic growth. Kenya Airway is now flying in some of our big cities."
Adongo Ogony is a Human Rights Activist and a Writer who lives in Toronto, Canada