The whole world knows that if President Uhuru Kenyatta actively joins the campaign to have Raila Odinga elected as the Kenyan president in August 2022, it is game over for William Ruto.
"We have been working, wakati wa siasa umefika," Uhuru said
There is all this talk about elections being rigged and all that crap. Nonsense. This election will not be close. If Raila wins it will be a landslide with all the forces coming together to keep the country normal and safe.
If Ruto has to win he needs his own landslide. This is not going to be a close election.
President Uhuru knows that if he wants Raila to win he will have to go to the battlefield and join his ally to fight for the country and defeat Ruto.
From the looks of it, President Uhuru is ready for that. No fence-sitting and all that wishful hope from Ruto and his UDA team.
Read: Uhuru promises aggressive Jubilee Party campaigns across the country
President Uhuru called a Jubilee PG meeting in State House just today and their decision was that Jubilee will not field a presidential candidate.
From the Jubilee PG statement, it is clear where Uhuru and his party stands.
Here are the reports:
The ruling Jubilee Party will not field a presidential candidate in the August 9, elections, a party's parliamentary group meeting has resolved.
The move clears the path for the ODM leader Raila Odinga who has been courting the ruling outfit since the March 9, 2018, Handshake.
Jubilee, that is closely working with the ODM leader, is expected to endorse him for the presidency at the National Delegates Conference scheduled for February 25 and 26.
A statement by the party's secretary-general Raphael Tuju disclosed that the party will back a presidential candidate with who they share common ideals.
"The meeting resolved that Jubilee will not field a presidential candidate for 2022. It was resolved that the party will support a presidential candidate with whom we share common ideals, who will treat us with respect and with whom we can form the next government as an 'Anchor Partner', to continue with the work done in the last 10 years," Tuju said in a statement.
In the meantime, the UDA/Mudavadi farce alliance still doesn't know what is going or coming. That is the first thing you have to know in any line of work, politics included.
The United Democratic Alliance Party has dismissed media reports on a purported power-sharing agreement between UDA, ANC, and Ford Kenya.
UDA Secretary-General Veronica Maina said the information published by a local daily under the headline, "Revealed: How UDA allies plan to share power" is inaccurate and misleading.
Ms. Maina said details of the cooperation between UDA, ANC, FORD KENYA, and any other Political Party if at all, will be formally unveiled by the Principals at an appropriate time.
"I wish to urge members of the public and the members and supporters of the respective political parties involved to ignore such misrepresentation and treat it with the contempt it deserves," She said.
She said, "The cooperation between said parties is aimed at bringing all Kenyans together, driving Kenya towards economic prosperity by adopting the "bottom-up economic model na pesa mfukoni model" and not at all intended for sharing of positions of power at the expense of what is important and of priority to the Common Mwananchi under the umbrella of Kenya Kwanza."
Read: Kibisu Kabatesi tells the truth about Ruto grabbing Mudavadi and Wetangula because he is stuck in nothingness
Ms. Maina accused their competitors of sponsoring such fake or speculative headlines in order to achieve a certain narrative.
Mudavadi wants to be part of UDA and hopefully be their candidate. He knows that is a dead idea.
And Weta is trying too even though in Bungoma we see a completely different story.
And some former UDA heroes are not very happy.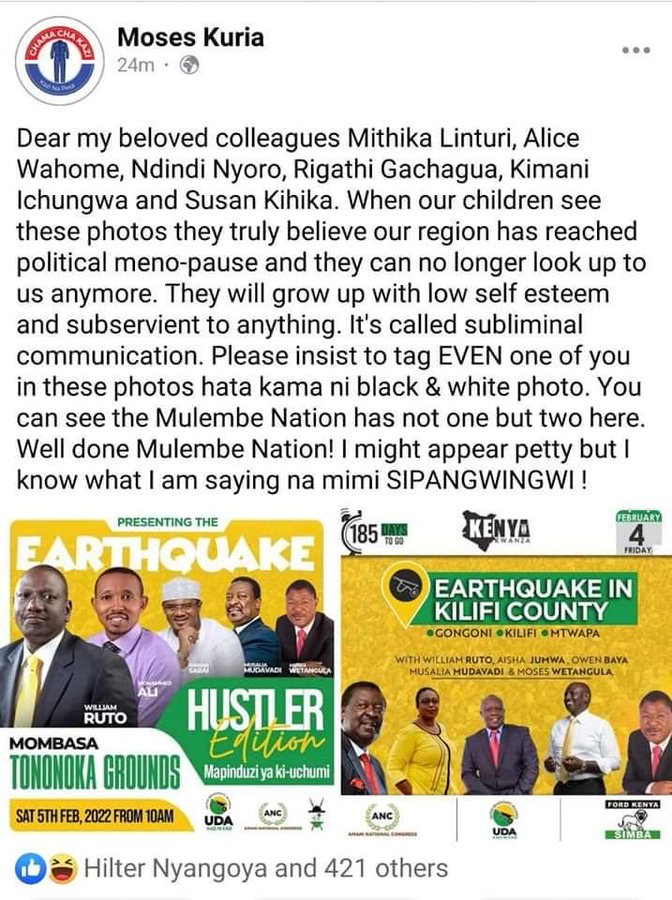 Anybody can see where this is headed. It is going to be simple math. When you add you increase stuff. When you subtract you have less of what you had before?
Uhuru is going to subtract a lot of votes from Ruto's hopeful basket and hand them to Azimio and Mudavadi and Wetangula are going to add very little to the Ruto basket while not even subtracting from the Raila Azimio basket.
Now you do the math. It is kind of easy.
Adongo Ogony is a Human Rights Activist and a Writer who lives in Toronto, Canada