Bishop Tutu who chaired the South African Truth Justice and Reconciliation Commission to bridge the moral gap between apartheid leaders and the masses of the African population they oppressed and killed for decades said something we need to pay attention to regarding what he saw at the TJRC in South Africa.
Bishop Tutu said the white killers came to the hearing riding in their big cars and in suits and left in those cars while the victims often came in clutches barely able to walk and left in exactly the same form.
In other words, it was a show for theatre and nothing else. But at least in South Africa, they had the hearings, released a complete report to the public and it was a genuine debate and discussion in South Africa to address the evils of apartheid and come with some solutions and remedies for the victims.
Read: Odinga mourns Desmond Tutu, recall late bishop coming to Kenya during 2007 chaos
In Kenya, we had a completely fake and insulting Truth Justice and Reconciliation Commission chaired by one of the suspects and even when the hearing was completed and handed over to President Mwai Kibaki, he and subsequent President Uhuru Kenyatta have thrown the whole report in the garbage and refused to release it to the public. That is the level of contempt our leaders have for us as citizens of Kenya.
By the law that set up the Kenya TJRC, the full report was supposed to be handed over to parliament by the president, debated in parliament, and then released to the Kenyan public and the recommendations addressed.
That has never happened and with all these political noisemakers struggling for power, nobody ever mentions the need to release and act on our TJRC report. Why?
Obviously, the reason our TJRC has never seen the light of day is that the perpetrators of those crimes in our TJRC were the ones in power when it was released and are the ones in power today.
The Kenyan Truth Justice and Reconciliation Commission was established in 2009 to address among other things the tragic 2007/8 Post Election Violence and look into the struggles and consequences of Kenyans fighting for land, justice, and truth from our time of independence.
Naturally, the TJRC addressed issues of land grabbing in Kenya in terms of who grabbed land and whose land has been grabbed.
They looked into our dreadful history of human rights abuses including massacres of citizens, assassinations, collective punishment, detentions of activists and politicians, torture arrests, and jailing of those deemed to be enemies of those in power.
The TJRC was chaired by Bethwell Kiplagat which itself was a controversy because Kiplagat was deemed to have been involved in the atrocious Wagalla Massacre which was one of the abuses the TJRC was going to investigate and have hearings on what happened.
Regardless of that controversy the TJRC completed its work and presented the final report to President Mwai Kibaki in 2013 just before he left office.
President Kibaki was by law required to hand over the report to parliament for discussion after which parliament would hold a vote to endorse the report, make it public, and act on the recommendations. That never happened.
It can be argued that since Kibaki was about to leave office when the report was handed to him that he may have wanted the next president to deal with it. But that is basically a silly excuse.
Kibaki may very well have found the report too hot to handle particularly when you look at land theft issues, assassinations, and the relentless abuse of human rights including the 2007/8 PEV violence of which Kibaki could very well have been party to.
So why has President Uhuru Kenyatta refused to release the TJRC report? I am sure it is for the exact same reasons that Kibaki refused to hand it over to Kenyans.
How about going forward, what are the prospects that the TJRC report will be released by the next government? Recently some UDA operatives in Mombasa were urging Raila Odinga the Azimio candidate to release the Ndung'u report of land grabbing in Kenya.
Read: UDA leaders meet with Ruto but ask Raila to help them sort out the land problem in Mombasa county
As we noted the UDA aspirants were actually addressing William Ruto who was present at that meeting but for some reason, the UDA squad never asked Ruto if he would release that Ndung'u Land Report.
I am yet to hear anybody ask Raila or Ruto to address the issues in our TJRC or at least to just release it to the public.
Now let's look at the two leading candidates and evaluate any hopes for the TJRC being made public and acted on.
Starting with William Ruto any such prospect is 100% impossible. Why? Ruto emerged in Kenyan politics in 1992 when he and a shady bunch of operatives formed the YK 92 political outfit to support one-party dictatorship and terrorize those fighting for multiparty in Kenya.
YK92 was the first-ever terrorist organization formed and operating in Kenya even before Al Shabaab came and bombed embassies in Kenya. Our country had a full-blown terrorist organization in 1992.
YK92 carried out two operations very vigorously. One was to beat up and even kill those considered to be enemies of President Moi who were engaging in activities to promote multi-party in Kenya.
I will never forget the image of Reverend Timothy Njoya wriggling in pain and bleeding on the ground while being smothered to near death with rungus. That was YK92 at work. They reveled in that kind of activity.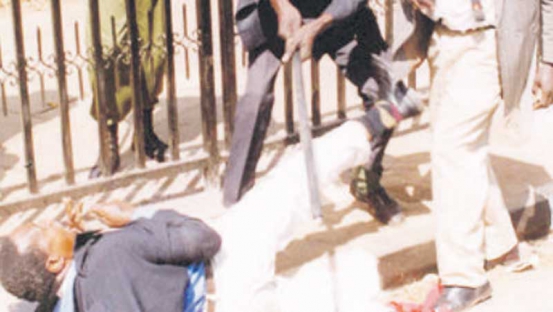 Reverend Njoya came to teach at the University of Toronto after this horrific attack where he almost died and we had several meetings with him while working with the Kenya Human Rights Organization in Canada and publishing HAKI, our monthly magazine about the human rights conditions in Kenya.
The Reverend said he forgives those who tried to kill him but he would like the truth about these attacks out so Kenyans know who they are dealing with.
The other job for Ruto and his YK92 was printing the Jirongo Kshs 500 notes.
That is the first time William Ruto engaged in wheelbarrow politics but at that time they were using wheelbarrows to go collect their Kshs 500 bills to take home.
Hopefully for the youth of Kenya Ruto is going to allow them to engage in that kind of wheelbarrow politics. How grand would that be for our young chaps? No need for boda bodas. Just wheelbarrows of Kshs 500 bills.
William Ruto is always asking Kenyans to judge him by his track record and all Kenyans will agree that judging Ruto by his track record of being party to horrible abuses of human rights in Kenya he would never even look at or even touch the TJRC report without seeing his name all over it as one of those involved in human rights abuses in our country.
How about Raila could he be the one to expose the atrocities in the TJRC report and do something about it? In theory yes but practically no. Why?
Raila needs the support of Uhuru Kenyatta and his allies to win the presidency. Uhuru definitely doesn't want this report to see the light of day otherwise he would have released it after ten years sitting on it.
Raila is also going to stick to that handshake message of forget and forgive the past which is handed down as an order and not a negotiated matter to settle outstanding issues.
If Raila wins the election, William Ruto will be the first to run in with a handshake so he can keep his wealth stolen or otherwise and live in peace. No politician in Kenya is going to want to see anybody opening the old wounds. They would want us to die with those wounds intact.
And we as a country know how terrible unopened wounds are. They don't bleed but they don't heal either. You are stuck with the wounds forever.
That leaves our human rights organizations the ones to move this agenda to the top of the table. But in reality, we know that our much cherished human rights organizations exist only on paper today. They have died a very sad death and we don't even have the time to mourn for them. That is how useless they have become.
We have had several distinguished human rights organizations in Kenya many of which I have been involved with.
We have had the indomitable Kenya Human Rights Commission (KHRC) formed in the middle of a battle in the 1990s. It has had a history of distinguished leadership and action.
The one and only Kang'ethe Mungai was one of its founding leaders and if you know Kang'ethe you know he works every single moment for human rights in Kenya. He helped to put KHRC on the map and of course, other human rights fighters like Dr. Willy Mutunga and Prof. Makau Mutua have been involved at different levels with KHRC.
And then Lynn Muthoni Wanyeki as the leader of KHRC took the organizations to new levels with work and commitment.
Then we have Kenya National Commission on Human Rights (KNCHR) established by the Kibaki government in 2003 after Narc took out Moi and his nasty regime.
KNCHR was established amid great fanfare and expectations. It was the first time in our country that our government was allowing the establishment of an independent human rights commission funded by the Kenyan taxpayer. Such a thing was unthinkable before that time.
Again Willy Mutunga was a big part in making it happen because he was advising the Kibaki government on human rights issues and pushed for KNCHR rights to be funded by the state.
KNCHR started on a very high note and did marvelous work making human rights activists like myself very happy. The first leader of KNCHR was Maina Kiai who put all his heart and effort into building that organization.
One of the areas where both of these groups did tremendous work was the investigations to unearth the perpetrators of the 2007/8 PEV which happened four years after KNCHR was established.
Both the government-funded Kenya National Commission on Human Rights and the donor-funded Kenya Human Rights Commission were at the forefront of helping the International Criminal Court (ICC) investigations in Kenya.
I had an interesting talk with Maina Kiai when we met in Nairobi in 2003. I was telling him we finally have the KNCHR and they have to do something to put human rights front and center.
He promised me they will do it. But he told, Adongo, there is a big difference when you are fighting for human rights in the streets and when the government gives you a big office, a car, and a house. He told me it is a completely new world and was hoping that the activists being employed by the KNCHR do not become puppets of the state just there to get their big pay and benefits.
Kiai was damn right because in his era they worked for human rights and today KNCHR is difficult to figure out and this is not a personal insult to whoever leads it now.
It is just a practical reality we have to deal with.
Can you imagine that Maina Kiai's deputy at KNCHR at the time who did a very good job himself Hassan Omar is now a Ruto chief of command?
But you know what, everybody has a right to live and eat. I am fine with that.
At that time though both organizations had distinguished leadership. Maina Kiai was at KNCHR doing a great job while Lynn Muthoni Wanyeki was leading KHRC doing just incredible work.
Incidentally at this time our new human rights activist Dennis Itumbi was very busy hunting down and exposing ICC witnesses that were likely to provide any evidence that could incriminate the accused biggies namely Uhuru Kenyatta and William Ruto.
Read: Was Dennis Itumbi kidnapped and tortured by self confessing police officers?
That is actually how Itumbi became a famous friend of Uhuru and Ruto. He was supposedly their savior.
We don't know what will come of the Itumbi situation but it is exactly what happened to him that used to happen to those ICC witnesses except in their cases nobody was ever found alive.
It was disappeared and dead. This is how tiresome history can be. It repeats itself without any mercy for us.
We are going to push our human rights organizations since we are the powerholders in those groups to push for the TJRC report to be made public and to take different aspects of it and launch some public campaigns and participation.
We are not going to let politicians just bury the TJRC. That is a big job to be done as the campaigns for the 2022 General Elections heat up. We are putting the TJRC on the table.
Don't forget that in the early Kibaki era when human rights were getting on the agenda was also the time we had John Githongo as the anti-corruption chief.
He went after the real thieves and had to be kicked out of the country very fast. We know where we are coming from and we sure like hell know where we are going. We are going to get there as a country. That is already in the bank.
One glimmer of hope is that some aspects of the TJRC recommendations were integrated into the new Bible of the nation, the 2010 constitution.
By that constitution, Kenya established the National Land Commission (NLC) and one of its most anticipated actions was to take cancel and renegotiate the land leases that the British land thieves cooked up when they captured our country and gave British business like their tea company 99 years leases for the land they just grabbed and paid nothing for.
Of course, our own leaders from Jomo Kenyatta onwards have even grabbed more land.
The National Land Commission (NLC) has been one of the single biggest failures in our country. Whoever bought them paid fully for them. NLC managed to keep every land grabber, old and new, very happy. It has been a complete failure.
The other expected big deal the 2010 constitution achieved was Chapter Six of our constitution which states that thieves, murderers, and crooks can not hold public office.
That is the biggest joke in our country and our constitution because it cannot be enforced and nobody even within our human rights groups is fighting to have it enforced.
It is irrelevant and that is where our country is today. Not bad because we just have to keep fighting.
This is a copy of the TJRC report.
Kenyans should read it and check it out.
Here we go.
Adongo Ogony is a Human Rights Activist and a Writer who lives in Toronto, Canada