The Law Society of Kenya which has asked to enjoin the case to stop the Ruto government and the MPs from illegally grabbing CDF money after the Supreme Court ruled that CDF as presently constituted is illegal has faulted our courts for helping to facilitate this theft of Kenyan money by MPs.
LSK president raised one big concern. "It would have been wiser to fast-track the hearing of the petition against the current 2015 Act so that the country is clear on whether the funds can be disbursed legally or otherwise," he said.
It is kind of interesting that the reason this matter has been delayed is that one of the three judges who were to hear the case withdrew from the case and the matter was referred to Chief Justice Martha Koome to appoint another judge but they are still fumbling about that, giving MPs a golden opportunity to go ahead with their theft.
Maybe Martha Koome, who was one of those who ruled CDF illegal is having second thoughts and thinking about how to get that money back to MPs to party with. You never know with our justice system.
Can our courts at least hear this matter before the entire CDF kitty is emptied into the pockets of the MPs? As soon as they got the money, the MPs were super excited. How can they not be? The Treasury of Kenya has just stuffed your pockets with Shs. 7 million of illegal money and you can do whatever you want it with that cash. Time to party big for the MPs.
From the response and celebrations of the MPs, you would think all the money is going to pay bursaries. Sabatia MP Clement Sloya also said the move would save parents a lot of headache. "These monies will help our children go to school and help them sort out fee issues as the year begins," said Sloya.
His Kesses counterpart Julius Ruto added: "The amount disbursed is Sh7 million per constituency. Sh5 million will go towards bursaries while the remainder is channeled towards administrative costs."
Bursaries are the easiest and best way for MPs to steal CDF money. Like the MP for Kesses Julius Ruto is saying that Shs. 5 million will be used for bursaries. Once he blows the money for his personal use he will say it was used to pay bursaries. You ask him to provide you with the list of those who got the bursaries and how much, he will have nothing like that.
First of all, how did he get the Shs. 5 million figure for bursaries? That is what his personal expense budget is.
In fact, in the last report by the Auditor General in 110 constituencies, bursaries were identified as the biggest tool used by thieving MPs on CDF.
The gravity of this fraud has been revealed by the Auditor General in a report where she fingers more than 110 constituencies for misappropriation of the fund.
The most exposed votes are those of bursaries and development. MPs claim to have paid bursaries for constituents but the audit shows either the schools are non-existent or the students are ghosts. In short, MPs are using county projects to justify CDF pilferage.
In a way, this could be good for those going to court to challenge the CDF theft by MPs. When the matter comes to court, MPs can be challenged to produce proof in court of how they have spent the Shs. 7 million just released and other CDF money before that. If you say you gave millions for bursaries then provide the names and the amount then the court and challengers in the court will be free to contact the recipients of the money to prove they all got the money.
One of the key issues that should be added to the case when the hearing gets underway is that MPs are stealing and misusing the funds and that is part of the reason they should not be given the CDF but more so a good reason why many of them should be prosecuted for theft of public funds.
They just got Kshs. 2 billion, the petitioners, in this case, can ask the court to demand that all the 290 MPs provide documented proof of how they have used that money as well as prove what the balance in the CDF bank account.
If this case starts one month from now, you can be sure that by that time the entire Shs. 2 billion they got from the Treasury this week will already be gone and the balances will be zero and minus zero in every constituency.
Let the petitioners ask the judges to demand that MPs and constituencies show what they have done with money just given to them illegally and also have proof of money spent in the last two years of 2020 and 2021.
The MPs to avoid being exposed will argue that the case is not about theft and how the money is used but about the legality of the CDF as per the Kenyan constitution. The petitioners will tell the court that the case is about both issues of illegal allocation of money to MPs and also those MPs stealing the money which is why they were desperate to get it back through the back door which the Ruto government gladly opened for them.
The one really good thing for the petitioners is that the National Assembly and the MPs are already in the process of formulating a new law for CDF, which means, they accept the Supreme Court ruling that CDF is illegal as constituted now. If they agree the system is illegal now, why are they and the Ruto government perpetuating that illegality by releasing CDF money to MPs?
"Oh it is wrong and illegal to steal my neighbours cow but I am going to steal it one more time because I am really in need it". What kind of nonsensical thinking is that by our government and the MPs on CDF? Can the Kenyan courts accept this and force Kenyans to tolerate it? On what basis? And for how long?
The other key issue here for the petitioners and Kenyans opposed to MPs robbing the CDF is that the MPs already knew there is going to be a legal battle with their new CDF legislation where they are extending stealing capacities of the money to the Senate to get a pass for their new law.
All the MPs have been screaming about CDF being used for school kids. Their idea was that when the new CDF proposals go for public consultation, they will talk about bursaries for kids and all the parents will come to those public meetings and support CDF going to MPs.
If during the hearing on the matter, petitioners can prove that most of the money has been stolen by MPs and their friends as well as families and nothing is going to bursaries except fake paperwork to justify theft, it could backfire big time on the MPs because those parents they are banking on will be able to see and know that CDF is all going down the drain for politicians.
The petitioners should also table in court all the Auditor General reports on CDF and there are many of those from different Auditor Generals over the years. Bring all those reports to court and let Kenyans see what experts who have examined the CDF books have said about their findings. Kenyans are ready for this.
I am not sure the MPs and President Ruto assisting them by illegally releasing Shs. 2 billion to them know what they are walking into. But then again what do they know? Bring it on.
I leave you with a sample audit report on CDF theft by MPs produced by our current Auditor General Nancy Gathungu in 2021. It is kind of frightening how easily these people rob Kenyans. It is easier than a robber walking into the bank with a bag and telling everybody to put their money into it and they do so very obediently and the bank robber walks away laughing. That is how our CDF works for MPs. It is beyond criminal.
Imagine if the courts asked all Nairobi County MPs to submit their expenses for the Shs. 7 million they just received, two months from now when all the money is gone. It would an be all hell break lose.
We could get there with this court case. The MPs better watch out. They are going to get exactly what they are asking for on CDF money. Why grab it now? It is coming in the courts first then maybe on the ground.
Here is the CDF 2021 Audit:
Audit Report Exposes MPs Stealing From The CDF
October 28, 2021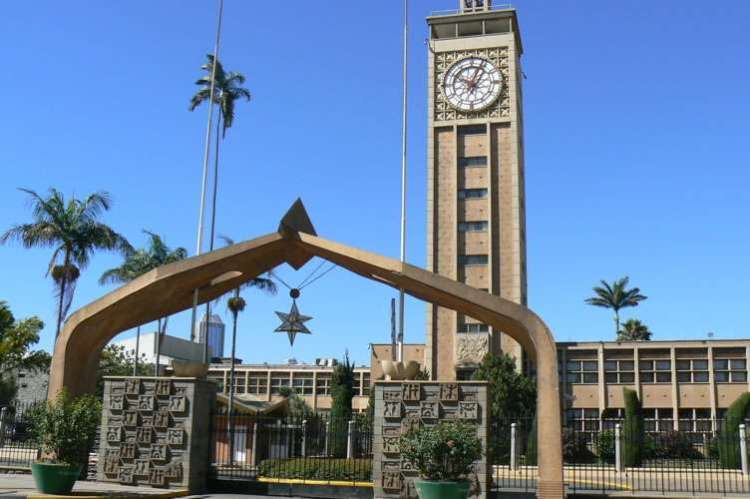 Another 47 MPs have been fingered over misuse of funds meant for bursaries and development projects in their constituencies.

In various reports tabled in the National Assembly, Auditor General Nancy Gathungu has detailed how the MPs misappropriated funds allocated to their areas.

Among the constituencies identified are Nyatike, Mt Elgon, Lagdera, Suba North, Kuria East, North Mugirango, Gatanga, Bobasi, Laikipia West and Gatundu South.

Others are LamuWest, Wajir West, Kitutu Chache, Kiambaa, Mathioya, Suna West, Kitutu Masaba, Kabuchai, , Banisa, Lamu East, Kitui East, Kitui Central, Kibwezi West, Kangundo, Mwingi North and Kanduyi.

Also on the spot for abuse of set criteria are Teso North, Butere, Mumias West, Kaloleni, Wajir North, Mandera South, Gichugu, Laisamis, Kirinyaga Central, Mandera North, Shinyalu, Funyula and Matungu.

In Millie Odhiambo's Suba North constituency, Gathungu raises concern over various issues including irregular bursary disbursements, irregular construction of Mbita Medical Training Centre, and questionable graveling of access roads.

Gathungu reported that bursary funds amounting to Sh40,000 was paid for a student at Tom Mboya High School but a review of the records revealed the student was not registered in the school.

"Consequently, the regularity and validity of the expenditure of the bursary amount of Sh40,000 could not be ascertained," reads the report.

It notes that the NGCDF committee spent Sh3 million on bush clearing, dozer work and graveling of a 2km road to Wakondo Primary School and another Sh3.9 million being incurred on grading of a 2.6 km access road to Nyamaji Kisaka and Ndhuru Primary Schools despite the projects falling under the county government which is contrary to the National Government Constituency Development Act.

Construction advertised The report shows that out of Sh2 million allocated for the establishment of Mbita Medical Training Centre, a review of records revealed that Sh1.8 million was spent before the project started, adding that the tender for construction was advertised in only one newspaper contrary to provisions of the Public Procurement Act 2015.

In Peter Masara's Suna West constituency, Gathungu raised concern over unsupported bursary disbursements to secondary and tertiary institutions amounting to Sh25.6 million, which had no supporting documents such as the beneficiary's identity cards, fee statement balances, and admission letters.

"Further evidence of vetting of the beneficiaries by the bursary sub-committee as required under regulation 21(3) of the National Government Constituencies Development Fund regulations was not provided. Consequently, the accuracy and validity of the expenditure totaling Sh25.6 million incurred on bursary disbursement could not be confirmed," adds the report.

No vetting In Central Imenti, Gathungu fingers area MP Mosses Gachine, over unsupported bursaries totaling Sh27.4 million because the list of applicants and bursary committee minutes showing how beneficiaries were vetted and awarded was not provided.

She also raises concern over another Sh5.9 million, which was not supported by an acknowledgment from the recipient institution.

"In the circumstances, the accuracy, completeness and validity of bursaries amounting to Sh27. 4 million for the year ended June 30, 2019, could not be confirmed," adds the report Gathungu also raises queries over an unsupported emergency project worth Sh1.3 million for the completion of Kauthene Police Post yet a report of the urgent unforeseen situation and bills of quantities were not provided.

She also questions a transfer of Sh52.5 million to three primary schools for construction and renovation of buildings yet there were anomalies on how the money was spent.

The schools in question are Gatuatine Primary School, Ngeene Primary School and Kirigara Primary School.

In Robert Gichumu's Gichugu constituency, Gathungu questions bursaries worth Sh 34.6million to secondary and tertiary institutions. According to her, out of the money only Sh28.7million was acknowledged through letters and receipts by the beneficiaries leaving a balance of Sh5.9 million.

Unapproved ICT expenditure She also pokes holes on what she terms unconfirmed project management committees bank account balances totaling Sh16.6 million as well as unapproved Information Communication Technology (ICT) hub expenditure.

"In the circumstances, it has not been possible to ascertain if the Sh5.9 million bursaries benefitted the intended beneficiaries and whether it was expended as appropriated in the year under review," notes the report.

In Abdullahi Bashir's Mandera North constituency, Gathungu reveals that there was unsupported bursaries totaling Sh9.7 million, as official receipts or acknowledgment letters by beneficiaries did not support it.

"Consequently the accuracy, completeness and validity of the expenditure for the bursaries of Sh 9.7 million could not be ascertained."

She also reveals that procurement of sports equipment worth Sh1 million was not supported by documents.

In Mathioya constituency, area MP Peter Kimari has been fingered over unsupported bursary to needy students in secondary and tertiary institutions totaling Sh 5.9 million.

She also raises questions over unsupported expenditure on environment totaling Sh1.9 million for purchase of seedlings but no evidence was provided to confirm the seedlings were delivered.

In Lamu East, area MP Sharrif Athman is on the spot over unsupported bursary payment to secondary schools and tertiary institutions amounting to Sh25.4 million as minutes of the bursary committee meetings were not provided while another Sh15.5 million disbursed to various institutions was not acknowledged through the official receipts of beneficiary institutions.

In Stanley Muiruri's Lamu West constituency, Gathungu raises concern over bursary disbursements totaling Sh24 million as it was not supported by minutes of bursary meetings. She also raises concern over the delayed implementation of projects in the constituency as nine initiatives with a combined budget of Sh23.9 million were yet to be started.
Adongo Ogony is a Kenyan Human Rights Activist and a Writer who lives in Toronto, Canada