Here is the famous African proverb from Tanzania:
Two Roads Overcame the Hyena
A very hungry hyena went out on the Tanzanian plains to hunt for food. He came to a branch in the bush road where the two paths veered off in different directions. He saw two goats caught in the thickets at the far end of the two different paths.
With his mouth watering in anticipation, he decided that his left leg would follow the left path and his right leg the right path. As the two paths continued to veer in different directions he tried to follow them both at once. Finally, he split in two. As the well-known African proverb says: Two roads overcame the hyena. (Story and proverb found in many African languages)
There have been some crucial developments in the campaign trail this week.
First President Uhuru postponed the Jubilee National Delegates Convention which was scheduled for November 30, 2021.
The president is delivering a state of the country address on that day. So the turmoil of Jubilee's internal operations will wait for a bit with Deputy President William Ruto effectively in the opposition with his UDA party and campaigning 24/7.
Then William Ruto had his own bombshell. This week Ruto has come out to deny the obvious.
Read: Ruto and his bothersome Deep State crying. Is it Real?
"I haven't started the campaigns because the campaign period is not yet announced by IEBC, what you have seen me do is to do what my mandate is, speaking to people, understanding their issues, assessing the extent of our government programs on how far they are and receiving feedback from the public," Ruto said in reference to his meetings that are always anchored on the 2022 campaigns in which he hopes to succeed his boss President Uhuru Kenyatta who is serving his second and final term.
"Maybe you haven't seen me in a tie and I think that's the problem. Government work can be done even without a tie. I think the only problem you have is that I have been working without being formally dressed.
There's no provision anywhere in the law that you must be in a tie to perform government work," Ruto said.
Ruto's comments would be laughable if they were not such blatant lies which assume Kenyans are too stupid even to recognize what is in their face every minute of the day, and what they can hear with their own ears.
Ruto claimed he is going around just inspecting their development projects and talking to people.
Maybe these are the kind of projects Ruto is inspecting across the country.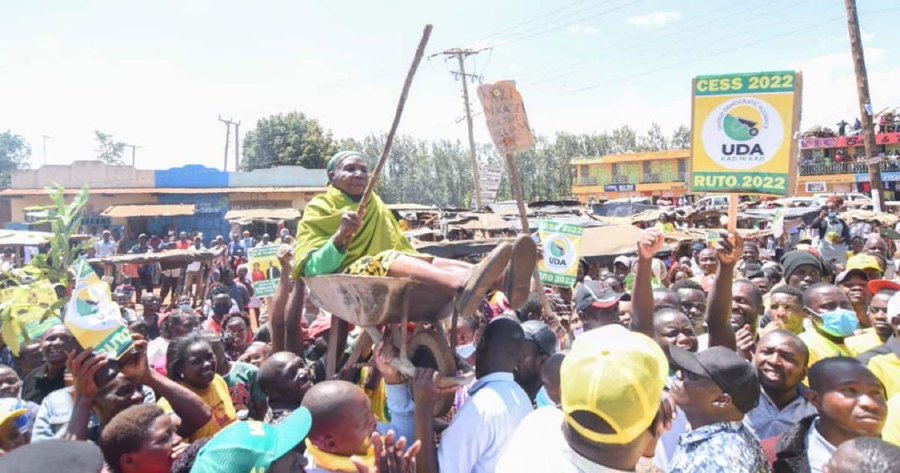 Forget the inhumanity and just gross abuse of this poor old grandmother for political entertainment. This scary thing has been going on all over the country for Ruto's entertainment but they are going to kill one of these old women if they drop the damn wheelbarrow with the human load in there.
In Kericho Ruto actually went ahead and told his usual hang arounds that he is working hard to implement their 2017 promises to Kenyans they made with Uhuru as president. This is the same Ruto who has been yelling at Uhuru day and night to apologize to Kenyans for failing to implement their national agenda of the Big Four.
One day Ruto is screaming about how President Uhuru destroyed their Big Four agenda and the next day Ruto is telling Kenyans how good he is doing in implementing their agenda and would like to continue doing so after the elections. Which is which? Did Uhuru and Raila kill the Big Four Agenda or are you busy implementing it?
Read: How do we end Grand Theft by politicians in Kenya?
So the campaign is in full force for both William Ruto and Raila Odinga. And yes it is not a campaign period yet but this is going to be the most chaotic election with no rules and even the constitution is going to be irrelevant to the politicians.
IEBC is technically dead and hopefully, they are going to be able to at least count the votes correctly.
So why exactly is Ruto trying to do the hyena move of going on two different paths at the same time?
Ruto is not a stupid guy, he knows President Uhuru Kenyatta is going to a huge if not a determining influence on the 2022 General Elections. Uhuru doesn't have to run around in rallies shouting at Kenyans but his influence is going to be huge.
So if you are Ruto creating the myth that you are still working with Uhuru for Kenyans has to be a big part of your campaign arsenal even if the reality staring you in the face says otherwise. In any event, people with power in our country have complete contempt and zero respect for Kenyans. We are their permanent fools and they appreciate us for that as a gift to them.
After heckling his boss for 3 years now, Ruto has to maintain his image of the big fighter trying to save Kenya from everybody including Uhuru who has according to him been captured by Raila.
Rolling Uhuru and Raila into one punching bag is a little difficult for Ruto. That is going to be a big problem for him.
Here is Ruto whining about Uhuru destroying their plans after hooking up with Raila. Tomorrow Ruto will say the exact opposite. This man needs to talk to that hyena that tried going two directions at once and split his ass in two.
Raila on the other hand has a situation with OKA leaders. He cannot afford to antagonize the OKA leaders but at the same time, the ODM supremo had to take his battle to the ground and get out of endless back door meetings.
Read: Raila Amolo Odinga Kenya's 5th President?
As it is things are already very complicated. Just this week Raila is representing President Uhuru at the Devolution Conference in Makueni. That is a clear message by itself and it is going to get more bold and clear.
And as we know in Kenya, campaigns and election is full-time business and work for our politicians. In fact, they do absolutely nothing else.
And then they set up clothing designs and productions. Clothing the politicians is the only business going on in Kenya. Is it bottoms up business? Do mama mbogas make the clothes and the uniform for politicians or that is done by the politicians' own business partners. Who is making the uniforms?
The last thing I will mention is how every government institution in Kenya loses billions every year. Our government is an expert in losing everything and they do it with vigor.
The SGR, the famous Jubilee project to connect our country's transport network, lost Kshs. 24 billion this year. They lost the same amount last year.
From the looks of it, they could be losing more every year for the next couple of decades. We could be looking at a couple of trillion shilling losses in the next decade from this SGR. That is not just bad, it could be fatal to the economy of the country.
The SGR was supposed to be the game-changer for our country. And yes it is a game-changer in how much money we can lose and why fast we can do that.
The Chinese corporations who built the SGR are getting paid whether the SGR is making money or not. Lucky them.
There are so many things wrong with that SGR. First, the connection is terrible. I used the SGR with my son in 2017 when we went to Kenya for the elections. The young man wanted to travel on SGR and he also wanted to visit Mombasa.
It costs a couple of thousand shillings to get to the SGR station in Nairobi. It is at Syokimau.
Read: Jubilee Horror Show coming to an End
Then when it drops you in Mombasa station it is out of Mombasa town itself. In fact, the SGR station in Mombasa is out of Mombasa Island. So you need to hire another private transport to take you from the SGR station in Mombasa to actually go to Mombasa itself. It is insane.
My friends in Mombasa told me it was cheaper to fly to Mombasa than take the stupid SGR but I wanted to see the country and I don't have a helicopter yet.
Then we have the total chaos of destroying the Mombasa Port transport system. Kenya is building some fake port in Naivasha. The transport link between Mombasa to Nairobi then to Kisumu and Uganda which is the lifeline of that railway system is completely messed up and just dying.
The British colonial government build the Lunatic Express which is what they called the railway from Mombasa to Kisumu. SGR is worse than a lunatic the way the Kenya government is running it.
Kenya Airways lost Kshs. 7 billion this year. Every single Kenyan parastatal institution is designed to lose billions every year. The Sugar companies are a good example.
And now the politicians are promising us Kshs. 100 billion every week to do their bottom-up thing.
Where is that money going to come from? The only bottoms-up thing going on in Kenya today is that our politicians are milking money from Kenyans from their bottoms up to their eyeballs. How is that going to work for Kenyans?
Adongo Ogony is a Human Rights Activist and a Writer who lives in Toronto, Canada