As Kenyans prepare to put to rest one of the most important persons our country has seen, it is our earnest hope that the whole process will be guided by the principles of humility, kindness, and respect that Mukami Kimathi has given our country all her life, even though she lived a life of poverty and misery for 60 years after spending her younger days in life-fighting for Kenya in the bushes risking her life every day.
Let's hope that the politicians and the government people who have ignored her all her life and treated Mau Mau fighters like trash, offering no economic help or support including denying them even the simple benefit of healthcare while lavishly spending Kenyan money on themselves will finally honor her by keeping their dirty politics and innuendos out of her funeral. Of course, the politicians will be all over the media talking about Mukami Kimathi for whom they did absolutely nothing. Shame on them.
We have all sorts of fake Mau Mau generals running the Kenya government today and we know, for them, this is more of an opportunity to extract whatever little political benefits they can get as Mukami Kimathi is laid to rest. Asking those politicians to keep their egos from Mukami now is a waste of time because their priority is to advance their egos at every opportunity. Those politicians and the government will do their showboating to reap whatever benefits they can from this tragedy.
Last year the Kenyan government treated Mukami Kimathi in a horrible way when she was detained in a hospital in Nairobi because she could not afford to pay her medical fees. Her family had to come out to the public to ask for help. It was disgusting proof of how our government treats those who fought for and gave everything for our freedom while grand thieves and land grabbers run our government today.
Read: Kenya government's Cruelty to Mukami, wife of our National Hero Dedan Kimathi is Unforgivable
The Mukami Kimathi Kenyans want to remember is best described by writer Wairimu Nderitu who had the privilege of talking to her directly and writing about her interactions with her.
Here is what Wairimu Nderitu said about the process of writing the book on Mukami Kimathi. It is quite humbling to hear Mukami speak in her own words about the Mau Mau struggle:
''When I eventually began to write, Mukami rallied Nancy Nyokabi Waciuri, wife of her late son Waciuri Kimathi, her grandson Dedan Kimathi Waciuri, and the Kimathi children; Nyambura, Waceke, Maina, Nyakinyua, Wangechi, Wangui, Muthoni, Nyawira and Wanjugu to enrich the narrative through personal accounts.
My own family stepped in too, with my father and mother reading through my scripts, and my brothers reminding Mukami of the stories she had told us when we were young. My sister Wanjiru Nyingi transcribed the interviews.
I soon encountered a problem. Mukami never talked of the details of the war because she was still bound by the oaths she had taken. For years, I could not find any historian who had written on Mukami.
It was not until I found a book by Maina wa Kinyatti, History of Resistance in Kenya, 1884-2002, that I was able to phrase questions in a way that she could answer without violating her oath. In addition, I also did a lot of background research to give the story a factual and historical context.
Mukami wanted a book that would bring people together; a book that would give hope to future generations. She often says: "The war was fought between the white and black people and between the blacks who fought for freedom and those who fought alongside the white man. That was in the past. Now they must live together."
She wanted me to remind Kenyans to take care of the country the Mau Mau fought for. Her lowest point was the 2007-2008 post-election violence and often said: "Because we fought the colonialists, Kenyans now have arrow roots, sweet potatoes, bananas, and yam on the table. But instead of eating, they are fighting! I wish this generation of Kenyans from all ethnic communities would rally as we did and this time emerge with, instead of independence like we did national unity!
In her story, Mukami shows us who Dedan Kimathi was as a father and husband. Her experiences provide an important complement to existing written records on Kenya's history.
Mukami Kimathi's prophesy that I would write her karugan is now a reality. The book, Mukami Kimathi: Mau Mau Freedom Fighter, was launched at the National Museums of Kenya in Nairobi. She was also proved right on another front; my sister Consolata Wakonyo became a pilot."
A few things that the Kenya government could do to honour Mukami Kimathi is to address the one issue she has publicly raised regarding her husband and our national hero Field Marshal Dedan Kimathi.
"I do not want to die before being shown the exact place where my husband was buried. I want to see the remains of my Kimathi before I go. I do not have long to live and this matter has been a thorn in my flesh," Mukami said in a recent media interview.
"I want to be shown my husband's grave. I want to know where he was buried. No one knows where my Kimathi was buried except the British government and I want President William Ruto and King Charles to intervene in this matter," Mukami told the media late last year.
Can the Kenya present Kenya government do anything to address the issue of where the British put Dedan Kimathi's body after they killed him? Is the body at Kamiti Maximum Prison burial grounds or did the British smuggle the dead body back to England as a trophy for the colonialists and the Queen of England? Can our government directly talk to the British government about this?
Let us not forget that it took Nelson Mandela demanding to see Mukami Kimathi when he visited Kenya in 1990 for our government to even remember that there is somebody called Mukami Kimathi living in the country. The government had no clue that she even existed and after the excitement of looking for her after Mandela asked for her, our government promptly forgot about her until she was stranded in a hospital in Nairobi last year.
Freedom fighters like Mukami Kimathi and many others have been literally buried out of sight from Kenyans and were suffering in ignominy all by themselves. It took the humanity and selflessness of Nelson Mandela when he visited Kenya in 1990 to unbury Mukami and let Kenyans know that she was still alive.
Mandela publicly asked President Moi in a welcoming rally for him in Kenya where the wife of Field Marshal Dedan Kimathi was and if he could meet and see her. Nobody in government including the president had any clue and in fact, most of them did not even know if there was a person like that in Kenya.
Also Read: Talking about the Mothers and the Freedom Fighters: How about Field Marshal Muthoni wa Kirima?
The real emphasis here is that Mau Mau veterans and their families have been ignored by our governments for more than 60 years.
As Kenyans mourn and bury Mukami Kimathi, can Kenyans finally get a genuine commitment from our government that the neglect and economic humiliation of our freedom fighters will finally be put to an end? Many of them have died or are dying as we speak. There are fewer of them for the Kenya government they fought to achieve to assist.
Basic needs for the Mau Mau veterans include something as important as a Veterans Pension plan. The British soldiers who killed Mau Mau fighters went back to Britain and were awarded huge veteran pensions and good pay. Why can't the Kenyan government take care of those who fought and died for their country so our present leaders can enjoy their humongous paychecks, benefits, and privileges?
Second, can Mau Mau veterans and their families get healthcare insurance? Why do they have to wait until they are stuck in hospitals like Mukami was before some political gimmicks are played for publicity?
Mau Mau fighters took to the battlefield and many died there fighting for land for all Kenyans. Today politicians and our national leaders own tens of thousands of acres of stolen land. Can the Kenya government of William Ruto commit as Kenyans mourn Mukami Kimathi that finally the government of Kenya will provide land to Mau Mau veterans and their families. There is a reason Dedan Kimathi and his comrades called Mau Mau the Kenya Land and Freedom Army.
The Kenya government also needs to provide housing to Mau Mau veterans many of whom are living in worse conditions than they did while living in Aberdare Forest and other places dodging bullets from the British colonial soldiers.
Then there is the issue of compensation that Mau Mau fighters took up against the British government and won in 2013.
The story below speaks volumes about how the Kenyan government treats Mau Mau veterans even after the veterans themselves took their battle to the British and got some peanut compensation.
Mau Mau victims accuse State of blocking Sh2.8bn UK compensation
THURSDAY MAY 12 2022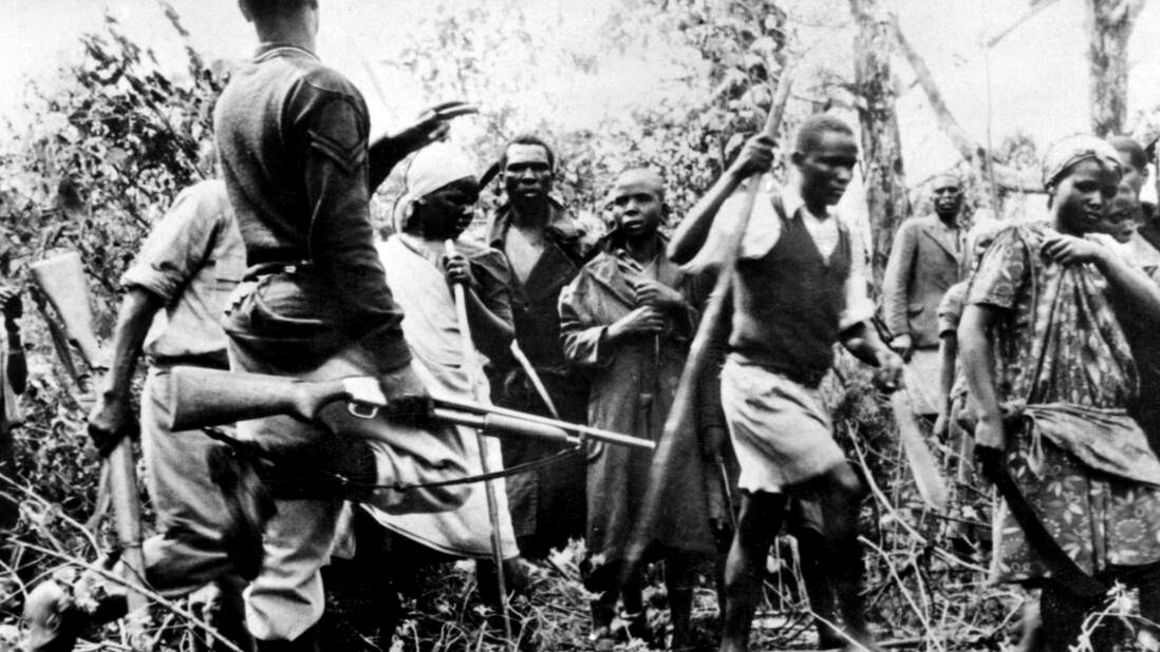 Mau Mau veterans have moved to the High Court to bar the government from interfering with ongoing negotiations for Sh2.8 billion compensation by the British government over torture during the colonial period.
The British government agreed in 2013 to pay Sh2.8 billion (£19.9 million) as compensation but Mau Mau Original Trust now says the government of Kenya has been reluctant or has refused to fully engage in talks and provide modalities for the compensation.
Through lawyer John Swaka, the group says the delays have seen many of the veterans die poor without receiving their share of the billions.
"Furthermore intended negotiations on the compensation of other Mau Mau have stalled for the past few years despite the best efforts of the Petitioner," he said in the petition.
Justice Anthony Mrima certified the case as urgent and directed Mr Swaka to serve the Attorney general with the court papers and respond within 21 days. The case will be mentioned on June 20.
In 2012, three Mau Mau veterans were allowed by the High Court in Britain to pursue damages for abuses they suffered during the rebellion in the 1950s.
A year later, the British government agreed to compensate the victims and apologised for the atrocities.
The then foreign secretary William Hague even made a statement to the House of Commons, expressing that the government "sincerely regrets that these abuses took place".
The veterans claim that the government has instead chosen to remain silent on their sufferings despite the expression of willingness by the British government to compensate them.
"As a result of the foregoing the Mau Mau victims and their families continue to wallow in poverty years after the independence," Mr Sakwa said in the petition.
Mr Joseph Ngacha Karani, a Mau Mau veteran, says he has continuously sought the government's assistance as they try to get the funds to cover what they lost ages ago.
"The Petitioner posits that they have been consistent and vigilant in asking for restitution and compensation all through since independence was achieved and should therefore be granted the orders they seek," Mr Karani said.
The veterans also want the court to further provide the process by which the compensation will be distributed directly to the Mau Mau fighters and their families.
Adongo Ogony is a Kenyan Human Rights Activist and  Writer who lives in Toronto, Canada