Its body is made from well-shaped Jua Kali mabati and painted black. The dashboard is sleek and comes with one lithium battery.
It is the first locally produced electric motorcycle in Kenya.
The manufacturers, Embakasi-based Opibus Limited, displayed the motorcycle at the just-ended devolution conference in Wote town, Makueni.
At least 100 units have already been sold around Nairobi, Western Kenya and in Ghana to select companies, but will be available to the general public from January.
"It will be the most-cost effective boda boda on the market in Kenya," said Dennis Wakaba, the project coordinator.
This is a huge development for our country and we need to rally behind it by all means.
I live in Canada where a big part of the land right now in British Columbia (BC) is under water as we speak.
You can't even travel around there. Houses are under water. Farmers there have their crops and livestock under water. It is scary and I am talking about Canada which is now the largest country in the world. Only the then Soviet Union was larger than Canada.
And we are under water.
This is all due to climate change. All the gimmicks in all those big climate change conferences are meaningless because the facts on the ground are that the Western developed countries need dirty oil to feed themselves and their economies.
Read: And the winds they are a turning?
In Kenya, the price of fuel has been skyrocketing for a while now. So when a group of investors and creative people in our country invent our own electric motorbike, it is a double whammy victory for us and our economy.
And like the simplicity on this bike. Just wait for the politicians to start bottoming this up for their selfish agendas.
This is a great initiative that could help transform our economy in many ways.
First of all, if the Kenya government can get their act together, we need to have electric refill points along our roads. It is not easy. That is the big problem with electric cars in North America. They can't figure it out. So the citizens would rather have their high fuel consuming SUVs because they will get their expensive gas anywhere.
Secondly, if This is a legit homemade invention, Kenya can negotiate some great deals with engineers and climate change advocates in Western countries and get very good pacts to promote and advance this kind of enterprise and transport revolution.
I am going to talk to my nephew, a mechanical engineer in Nairobi who is now doing his post-graduate engineering course and teaching in a polytechnic on how this electric boda boda engineering can be developed. He knows a whole lot of stuff about this than me.
There is one big issue that has hindered the development of the electronic transportation system in North America and that is because they love their cars. Nobody here is interested in motorbikes except when they are on vacation somewhere in the bushes.
In Kenya, we can develop in the exact opposite direction.
We don't have that many cars because they are too expensive for us. We love our bikes. If we can make them cheap to use, everybody in Kenya is going to buy a motorbike. And if we are producing those motorbikes can you imagine the economic benefits in all directions?
One area where a country like Canada would help greatly is setting up electric refill stations as a foreign aid to Kenya. They will do it and Kenyans here in Canada will talk to our government here to facilitate that economy and climate change support.
Read: The Hyena had a nightmare trying to go in two directions at the same time. Will it work for Ruto?
The Kenya government can start with setting these refills in our urban centers, Nairobi being the big one. We set Nairobi up, then Mombasa, Kisumu, Eldoret, Kericho, Garissa, and all over and we are in business in the new paths of development for our country, our continent, and the world we live in.
There can be nothing wrong with that. The investors will come in droves from motorbike manufacturers but Kenya will have an obligation to protect its homegrown industries in that business.
Then move to electric-powered transportation like Mkokoteni. Our most important transportation system today is for the things the working people need and do.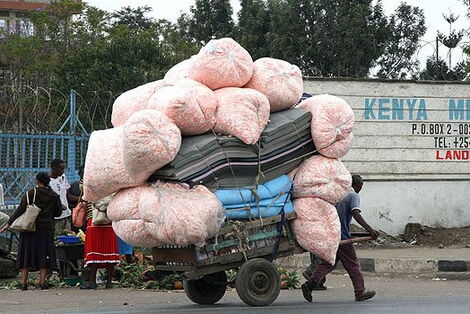 Can you imagine an electric-powered Mkokoteni dropping stuff all over the place in the country, particularly in the urban centers? They will be dropping fruits, vegetables, potatoes, clothing, bread and of course butter when it should be for the customers.
If we can do that with electronic-powered machines, we would save a lot of Kenyans from a lot of heart and back pains, not to mention the economic benefits this could be for everybody.
The possibilities are there for our country. We just need to work on them. Every minute.
Adongo Ogony is a Human Rights Activist and a Writer who lives in Toronto, Canada