This (read here) is an assessment of our private and public health system and the writer seems to think that Kenya's private healthcare is a failure and the public healthcare system is great.
I completely disagree because my family and myself use both and we know how messed up the healthcare system in Kenya is. Every Kenyan knows that. We all get sick. Don't we? Too often for poor people in all the countries in the world. Bad.
The rich Kenyans including your M.Ps, governors, MCAs, Cabinet Secretaries, and those in power have access to first-class healthcare services in Kenya.
And in fact, the Kenyan private sector has some of the most sophisticated health services and facilities but of course, there are a lot of shady ones like this.
I was in Nairobi Hospital when my son got sick and we were at JKIA leaving for Toronto, Canada and the staff there told us the young man should not go on an airplane because he was sick.
I still apologize to that young man who is now a grown-up person doing his own things.
But I tell him, how stupid could I possibly have been to take him to the airport to travel when he was sick. I didn't know he was sick but I felt I owed him an apology.
Nairobi Hospital is as good as any in the world. They took good care of him and in five days we were ready to leave.
It cost us a fortune but for someone's life money really is irrelevant. That is if you have it for something as critical as a person's life.
How about for the majority of Kenyans who don't have the money to buy medical services and medicine when they need it?

It turned out the young man had typhoid which is very hard to detect, but when it drops you are very close to dead.
By that time the young man's mother was in Toronto and when we told her we are in hospital because her son had typhoid, she was grabbing her passport to come to help us in Nairobi. We managed to persuade her that we were fine and she did not need to come to Nairobi.
My nephew works as a health expert at MP Shah hospital in Nairobi. They have excellent medical services and facilities there.
Even in the small towns and the rural areas, private medical services are booming from hospitals to pharmacies and all you need. But you have to pay for it.
In my small town, we have a Harvard University-trained medical doctor who operates her private medical practice in town.
She is incredible and comes to work at 7.00 a.m because she told me that is when she will meet desperate parents with their kids in front of her clinic.
I was one of those parents when she showed up at 7.00 am in March 2001 at her clinic.
She didn't talk to me first. She talked to the 5-year-old guy there. He had malaria we thought, but she had to check it out. She did that.
Read: And the winds they are a turning?
And then of course don't forget our habit as Kenyans not to go to a doctor but go to the pharmacy, and order your medications. Kenyans love to write their own prescriptions.
They know malaria and of course, they know diarrhea, and as soon as they have any of that they just go tell the pharmacy workers to give them this or that medication.
That may work but often Kenyans buy minimal medication because that is what they can afford. The problem is that any half-cured illness comes back stronger.
The public health sector is a whole different story. It is a mess. Here is the Kenyatta National Hospital, the biggest public health institution in our country.
I am very familiar with Kenyatta National Hospital as a student at Nairobi University.
My good friend Matt Ogonya graduated from there and was so stubborn as a student but when he graduated and was assigned to Mombasa General Hospital he was just amazing there.
I know that because I was working in Mombasa.
Then my family friend is a nurse student at the Hospital, I go there and it is very difficult. I am thinking is this what nursing means. Complete respect for that work.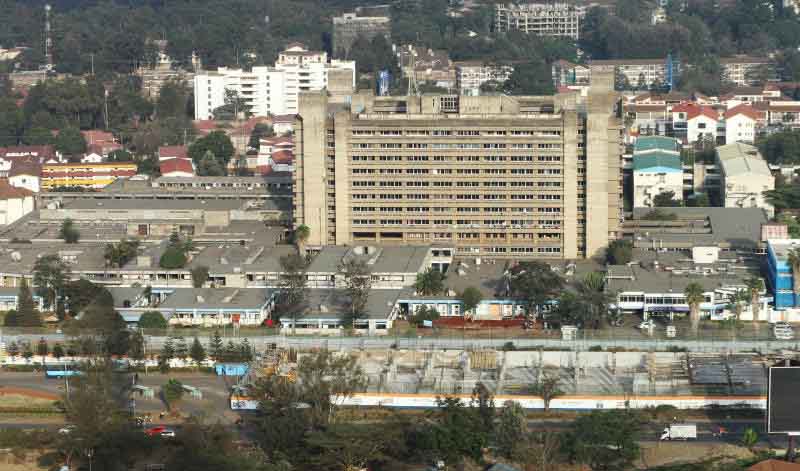 When I was in Kenya for the 2017 elections for three months before the election, the entire public health care workers in the whole country were on strike. They had been on strike for a long time even before that.
As our political leaders were fighting and shouting at each other about who should lead the country, not one single politician ever talked about the fact that millions of Kenyans could not get healthcare because healthcare workers were on strike in the whole country.
So healthcare services in Kenya are of no interest at all to the political power agents. Lately, we have heard a lot about NHIF funding to Kenyans who need health services, but it is vague and directionless. That is what our politicians love. Look busy and do nothing about important issues to Kenyans.
The nightmare in healthcare services in Kenya starts and ends with the funding formula for health services in our 2010 constitution. I know there are many Kenyans including my friends in the human rights movements who think the 2010 constitution is our new Bible and is unamendable.
In healthcare, the 2010 Katiba is a killer to all Kenyans who do not have tons of money to pay for their healthcare services.
Under the 2010 constitution, the Governors are responsible for paying all the medical staff in their counties. The counties have to pay the doctors, the nurses, medical specialists, medical health supplies, and a whole lot of other things.
That is fine except that in the Budget for the country, the national government still allocates a bigger part of the health budget to the national government. What is the national government doing with health money for Kenyans when all they run are a few hospitals.
What is the solution?
Very simple based on common sense.
If the county governments are going to run 90% of healthcare services in the country and pay the professionals working there and running the whole healthcare system then give the counties 90% of the health budget. This is not rocket science.
If the national government wants to run a big chunk of our healthcare then reorganize the katiba to allocate specific responsibilities to the national government in terms of paying for health care services and workers in Kenya. The national government can't have it both ways.
Read: Kenyans should support our homemade electric Boda Boda. The world will join us
The national government today is telling Kenyans that they will keep health money and ask the counties to run the healthcare system. That hasn't worked and it is not going to work ever.
This is the time for both the Raila and Ruto campaign to tell us how they intend to solve the healthcare crisis in Kenya. This is not twitter politics and scream fest in Kenya. It is real and it has to be addressed right now.
We have to do deal with real things to redeem and make our healthcare systems better and workable for all Kenyans. That is the humane thing to do. Not for politicians, I know, but for Kenyans it is.
This election has to deal with Healthcare for Kenyans. I don't care how much money big candidates distribute in their campaigns. Kenyans need their health to live and survive. It is essential to all of us.
The truth is that if you have money in Kenya you get excellent healthcare services. If you don't have the money you are as good as dead.
It is not acceptable.
Adongo Ogony is a Human Rights Activist and a Writer who lives in Toronto, Canada